A few months ago, I was scrolling through Instagram at 3am, as is my habit, (and I wonder why I'm tired in the morning) when I got a targeted ad for Misfits Market. I swear, Instagram targeted ads stare into your GD SOUL. How do they do it?!?
If you're not familiar, Misfits Market takes produce that grocery stores won't buy because it might be abnormally-shaped, too small, or deemed unattractive, and sells it for 40% of traditional grocery store costs. It's perfectly good, edible produce! Shaun and I couldn't sign up fast enough. (I swear this isn't an ad. We've just really enjoyed it.)
Part of the fun is that you don't know what you're getting until the week that it arrives, so you sometimes get pushed out of your comfort zone. This week we got some great butter lettuce, pears, a few different types of peppers, jicama, potatoes, apples, celery, cilantro… and spaghetti squash.
I'd never cooked spaghetti squash before. In fact, as a general rule, I don't cook squash that often. It isn't that I hate it. I just think that with a few exceptions, it is the honeydew melon of the vegetable world. It is a bland filler vegetable and I won't go out of my way to get it.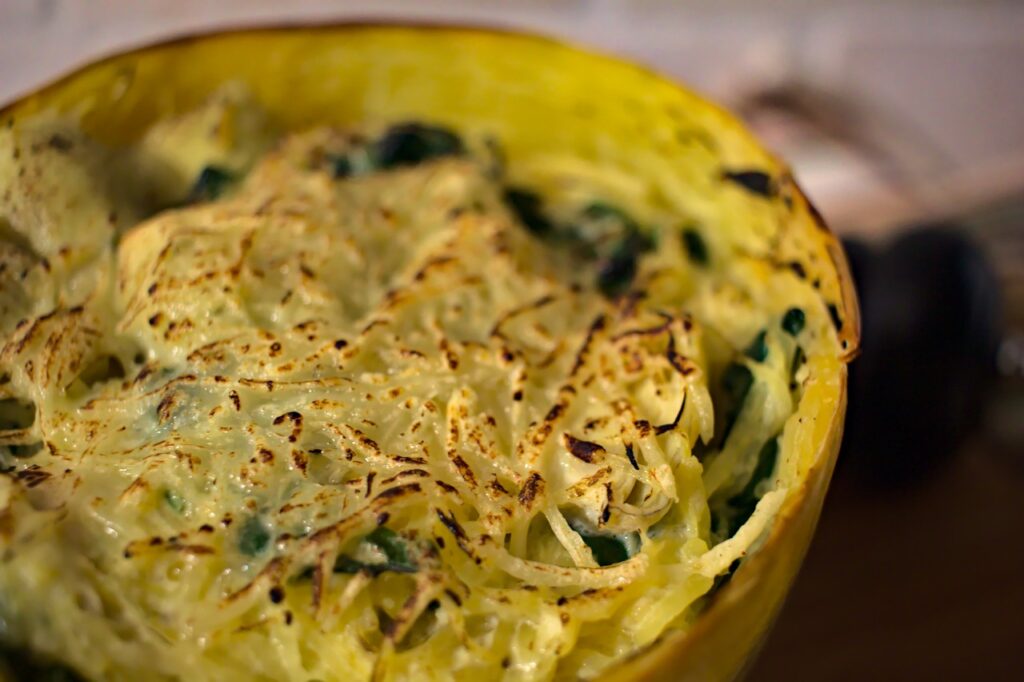 I have been hearing that you can use spaghetti squash "just like pasta" for years and I was understandably skeptical, having been sorely disappointed by zoodles. YOU'RE NOT FOOLING ANYONE, ZOODLES! Damn if I wasn't impressed by the spaghetti squash though. Even Birdie ate it, although she asked me to "pick out the vegetables" (vegetables being spinach).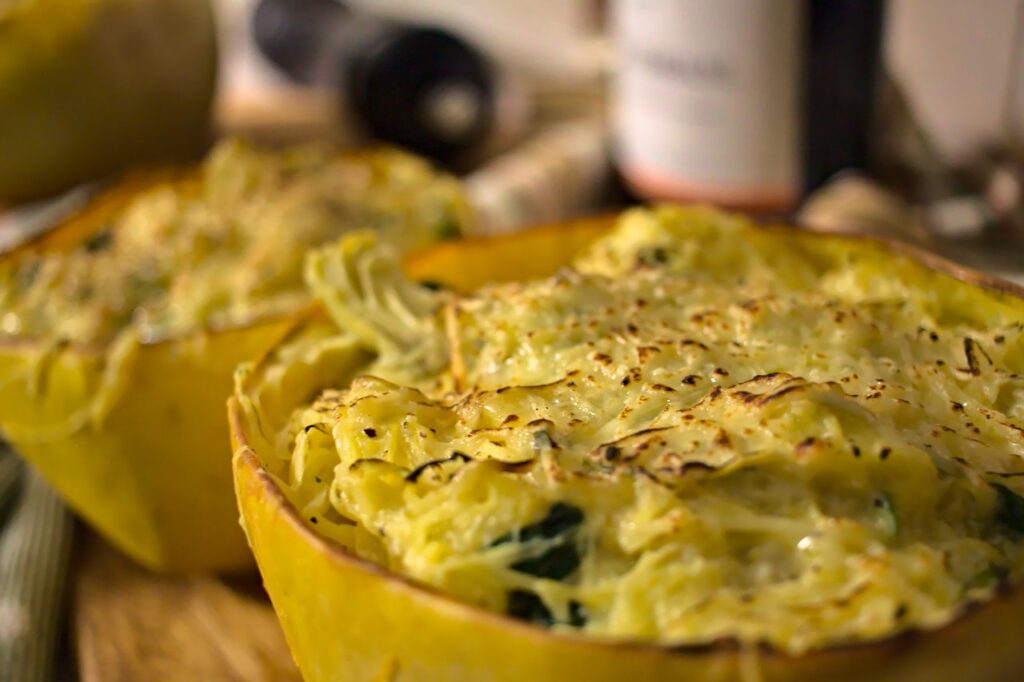 As for my leftovers report? It reheated great! I actually think it got better overnight.
Regular yellow squash can still get bent, IMO.
Spinach Artichoke Spaghetti Squash
Servings:
8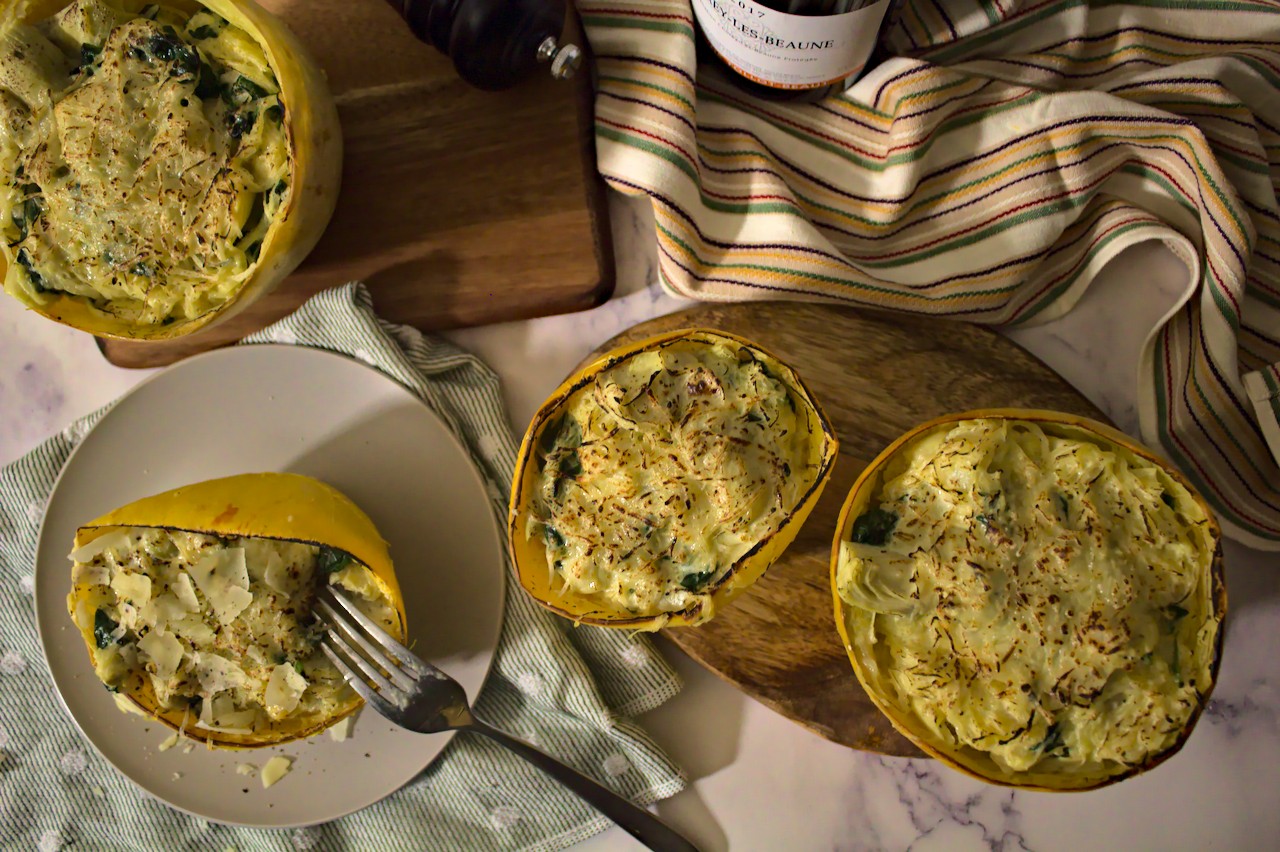 Ingredients
2

medium spaghetti squash

1

tsp

butter

1

tsp

olive oil

5

oz

fresh spinach

8

oz

cream cheese, cubed

1

cup

grated hard cheese such as parmesan or asiago

3

tbsp

milk

2

cans

quartered artichoke hearts, drained

black pepper, to taste

cayenne, to taste

salt, to taste

lemon juice, to taste
Directions
Preheat oven to 425 degrees, and prepare a baking sheet covered with foil or silpats.

Cut spaghetti squash in half. We cut ours into bowl shapes, but they could be cut lengthwise into boat shapes if desired.

Place into oven for approximately 40 minutes, but keep an eye on them. One of our squashes was smaller than the other and needed to be pulled about 8 minutes before the other. You will know it is ready when the outside just starts to have some give.

While your squash is baking, sautée the garlic in the butter and oil over medium heat until it starts to soften, but don't let it burn! Once the garlic has softened, add the spinach, and sautée until it just begins to wilt. Do not let the spinach cook down to nothing. You still want it to have body.

When your squash has finished cooking, let it cool slightly, and start pulling the insides out into spaghetti-like strands with a fork, and placing them into a large mixing bowl, discarding any seeds. You can really scrape the sides of the squash down and get quite a bit of squash out if you try!

While the squash is still warm, add the cream cheese, milk, and cheese and mix until it is fully and uniformly melted. Add the artichoke hearts.

Taste the mixture. Add salt, pepper, cayenne, and lemon juice as needed. I found that while the artichoke hearts and cheese added quite a bit of salt, it still needed a good pinch, a good bit of pepper and cayenne, and probably about a teaspoon of lemon juice for brightness.

You could serve it in a bowl at this point, or scoop it back into the squash shells, top with some extra cheese and broil for a minute to give it a little color.