I am not one of these guys that's all about 'grill life' or whatever the hell you want to call it. I mean, sure, I like cooking on the grill every once in a while, but I'm not dedicating every ounce of culinary energy to it.
But there are some things that I'll go out of my way to make. This chicken is one of those things. Smoky, spicy, and just plain delicious, this pollo al carbón (charcoal chicken) is now a personal favorite for when we want to have taco night.
There is definitely a backstory with how this meal became one of my grill favorites. My very long time friend Mike and I pretty regularly share with one another our thoughts on any new restaurant or food-related establishments we've visited that we think the other may like. He and his wife, Alissa, don't live that far from us, but if you're familiar with Atlanta, the food scene can be wildly different from one neighborhood to the next, so their local food experience is very much unlike ours.
Mike hits me up one day and just raves about the al carbón chicken from a local place called Little Rey. He kept talking about the COVID takeout meal package they were doing with a whole chicken and sides and it sounded really good. And what made it even more intriguing: Little Rey is a Ford Fry restaurant. Annie and I haven't met a Ford Fry restaurant we didn't love.
Fast forward to when everyone has done the quarantine thing and starts to feel comfortable socializing with close friends. Mike and I both talked about getting together for some drinks and dinner, and he specifically recommended we have this chicken from Little Rey. Yeah, you better believe I'm down. Let me tell you right now, I was, yet again, extremely pleased with this magnificent creation from a Ford Fry establishment. I enjoyed that meal so much that I had to see if I could make something like it.
This seemed like it could be pretty straightforward to do, as long as I got the seasoning right. Maybe a mojo marinated chicken slow cooked and smoked on a charcoal grill for a bit? I think a lot of folks do this with chicken halves, but I'm a big fan of spatchcocked chicken, so I figured I would try it like that.
Grill time.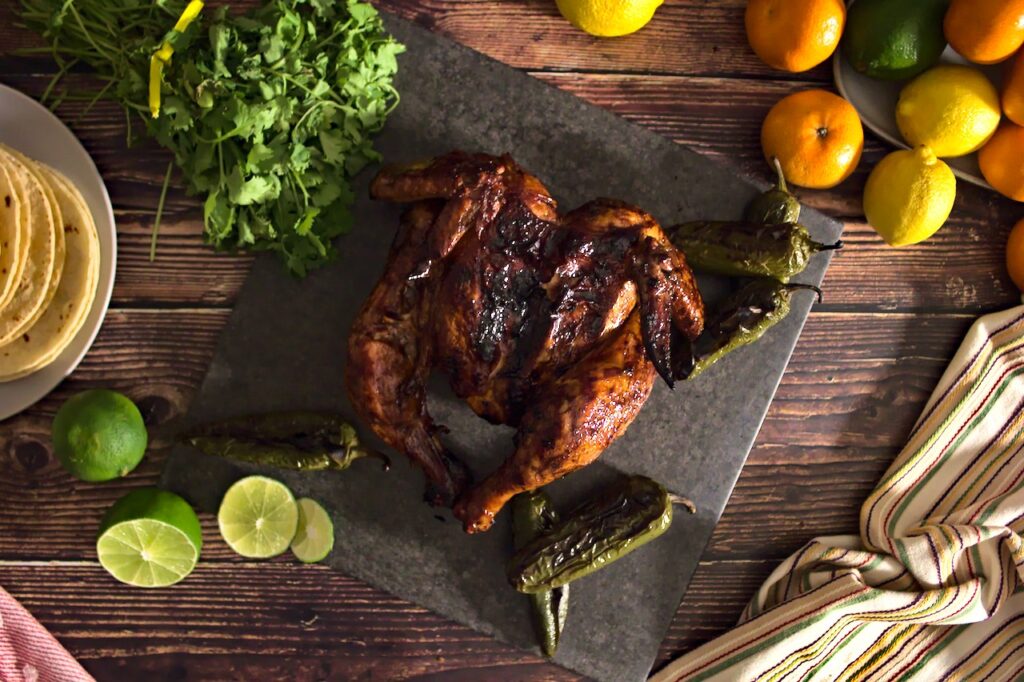 I have a ceramic charcoal grill (a Kamado Joe to be specific), but I am sure that any grill will do just fine as long as you are cooking the chicken on indirect heat at a low temperature (I shoot for somewhere around 300 to 325 degrees). Drop some water soaked wood chunks on some hot coals and you'll have a meat smoking paradise. I typically use hickory. I don't really care much for mesquite because I find the flavor to be unpleasantly strong. But use whatever you prefer.
Having a meat thermometer really helps for something like this. The marinated chicken goes on until cooked to just below temp, flipping only a couple of times to get a nice even char. I took the chicken off to rest at 165 degrees. Carry-over cooking should take it up a few more degrees while it rests.
I like some heat on my tacos, so if you're like me, throw a couple fresh jalepeños on the grill. Roast them until they have charred on the outside and softened.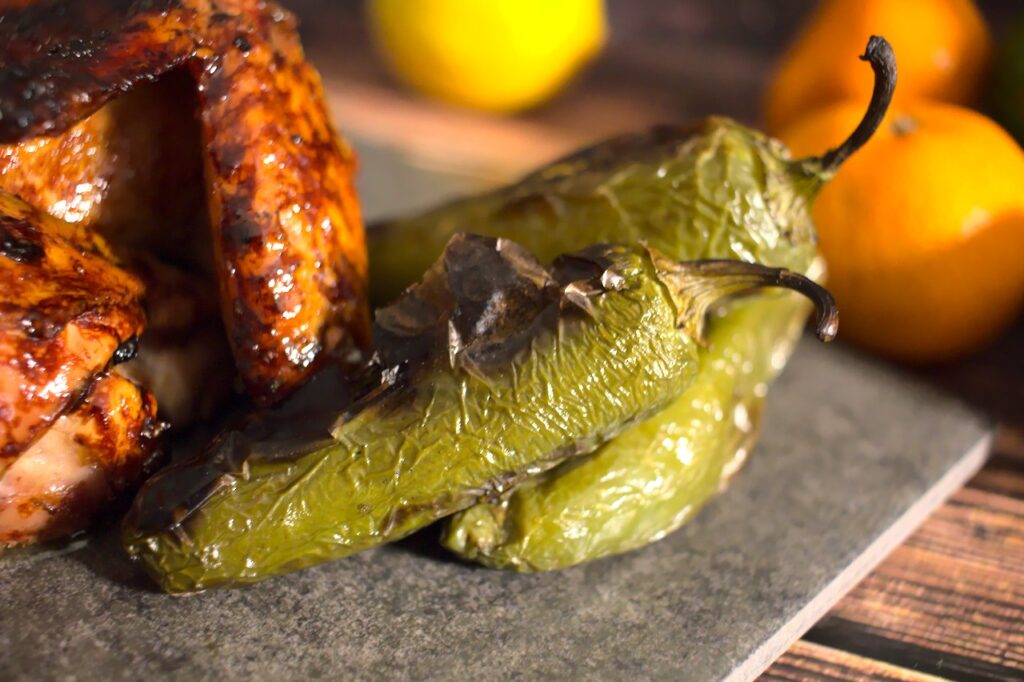 You're off the races. Shred up that chicken, put it in some corn tortillas, and top with pickled red onion, cilantro, crumbled queso fresco, and roasted jalepeños if you made them, then tell me later how awesome they tasted. Enjoy!
Pollo al Carbón Tacos
Inspired by "Chicken al Carbon" from Little Rey
Servings:
6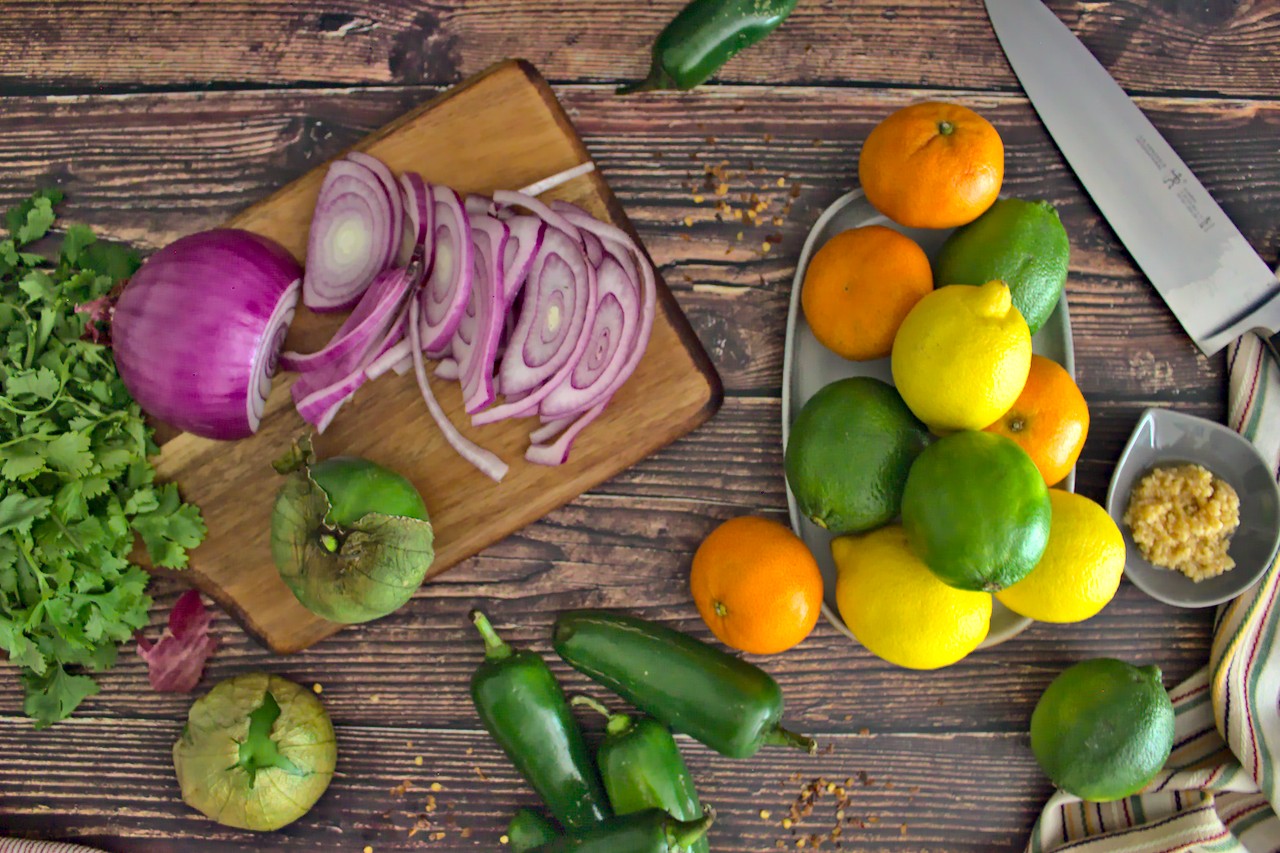 Ingredients
Mojo Marinade
½

cup

fresh squeezed orange juice

¼

cup

fresh squeezed lime juice

¼

cup

fresh squeezed lemon juice

1

oz

tequila

1

tbsp

minced garlic

(or more, measure with your heart)

¼

cup

diced red onion

2

dehusked and diced tomatillos

(if you can't find tomatillos, you can substitute a salsa verde, but you need to taste to make sure it's right!)

salt and pepper, to taste
Pickled Red Onion
1

cup

thinly sliced red onion

(you want to slice onion halves, not an entire onion)

2

cups

white vinegar

2

tbsp

sugar
Chicken and Grill
1

whole chicken, spatchcocked

4-6

fresh jalepeños

(or less, or none, these are roasted for taste)

water soaked wood chunks

(I prefer hickory, but use whatever is your preference)
Tacos
corn or flour tortillas

crumbled queso fresco

(to taste)

pickled red onion

(from above)

shredded chicken

(from above)

cilantro

(to taste)

Chaloula hot sauce

(to taste)

sliced roasted jalepeños

(to taste, if you made them)
Directions
Mojo Marinade
Heat a pan with about 1 tbsp of vegetable oil over medium heat.

Add the red onions and tomatillos and slowly cook until they have softened.

Add garlic to the pan and cook for about 1 or 2 minutes, without burning the garlic.

Add the orange, lemon, and lime juices. Stir to combine, then add the tequila.

Season marinade to taste and simmer for 2-3 minutes.

Set the marinade aside to cool until it is room temperature.
Pickled Red Onion
Add sliced red onion, vinegar, and sugar into an airtight container and combine well. You will want to taste to make sure it is tangy and tart like vinegar should be, but with a hint of sweetness. It's ok to add a little more sugar if you would prefer the onions to be a bit sweeter.

Seal the container and place in your refrigerator for 4-6 hours prior to cooking (overnight is preferred, though).
Chicken and Grill
Put wood chunks of your choice (I use hickory) into water to soak several hours prior to cooking. I typically do this in the morning to let them get pretty well soaked by the time I get the grill going. This will allow them to smoke instead of burn.

About 2-4 hours prior to cooking, spatchcock a whole chicken. With a pair of kitchen shears, cut the chicken backbone on either side to remove it, then open the chicken so it lays flat, breast side up.

Pour the cooled marinade into a large, gallon freezer bag, then place that bag into another freezer bag (to help avoid any spills).

Place the spatchcocked chicken into the bag with the marinade, seal tightly, and make sure that the chicken is completely coated. Store in the refrigerator for 2-4 hours.

When you are close to done marinating, prepare your grill by bringing it to a roasting temperature of 300-325 degrees. If using charcoal, move coals to one side of the grill to create an indirect cooking surface. Add some wood chunks to the edges of the coals and let them start to smoke.

Remove the chicken from the marinade and place on the grill, breast side up, over indirect heat. If using a meat thermometer (highly recommended), insert the thermometer probe into the thickest part of the chicken breast.

Close the grill and slow roast for roughly 20-30 minutes, or roughly until the internal temperature has reached 120 degrees.

Flip the chicken to be breast side down and continue roasting until the internal temperature has reached 160 degrees, roughly another 20-30 minutes.

Flip the chicken one more time to be breast side up and make sure you have a nice even char on the outside. This is really just for presentation, but it looks nice 🙂

Roast just a bit longer until the internal temperature has reached 165 degrees. Remove and set aside to rest.

If you are roasting jalepeños, place them on the grill on more direct heat. Roast thoroughly on each side until the peppers are softened and beautifully charred on the outside. This took me about 10 minutes or so.
Tacos
After resting, shred the chicken using two forks in either hand.

Assemble your tacos by placing shredded chicken, pickled red onion, a couple slices of roasted jalepeño (if you made them) on a corn or flour tortilla. Top with crumbled queso fresco, cilantro, and Chaloula (optional).