Yes, you read that right. Krab, also known as crab with a 'k', also known as imitation crab meat, also known as Alaskan pollock. But don't be so quick to turn away from this recipe. I mean, we're talking about poke bowls here, not some fly-by-night California roll you might (please don't) pick up from a gas station in the middle of nowhere. Plus this has sushi grade tuna in it! So it has to be good, right? Of course it does!
I used to be the kind of person that was a creature of habit: give me some salmon or tuna nigiri over everything else, your trendy rice bowl be damned. Annie had to talk me into this one and now I'm totally hooked (no fishing pun intended).
Annie goes nuts for fish. She'll take a nice piece of fish over any other protein any of the day of the week, guaranteed. So with all of the poke joints that are popping up left and right to lure in unsuspecting millenials like ourselves, you know we had to try to make our own.
I'll admittedly say I had my doubts on this one from the get-go. And not because I didn't think we could do it. It was because I kept thinking "where the hell are we going to find sushi grade tuna?!".
It's not like you can walk into your local grocery store and expect to find that. Sure, you can find tuna steaks, but don't confuse tuna steaks with sushi grade tuna. They are 100% not the same thing. Please don't go buying whatever raw tuna you can find. Just don't. It's generally not recommended to consume raw and has a pretty good chance of, umm, well, disrupting your digestion (or worse).
You need to find sushi grade tuna. This tuna is fresh and perfect for poke bowls since it is suitable to be eaten raw, assuming you are ok with the risk of eating any raw meat. Like I said, you can't really find this at big name grocery stores (at least none of the ones near us), but if you have a local farmers market with a good Asian food area or very reputable fish counter, your chances are pretty good.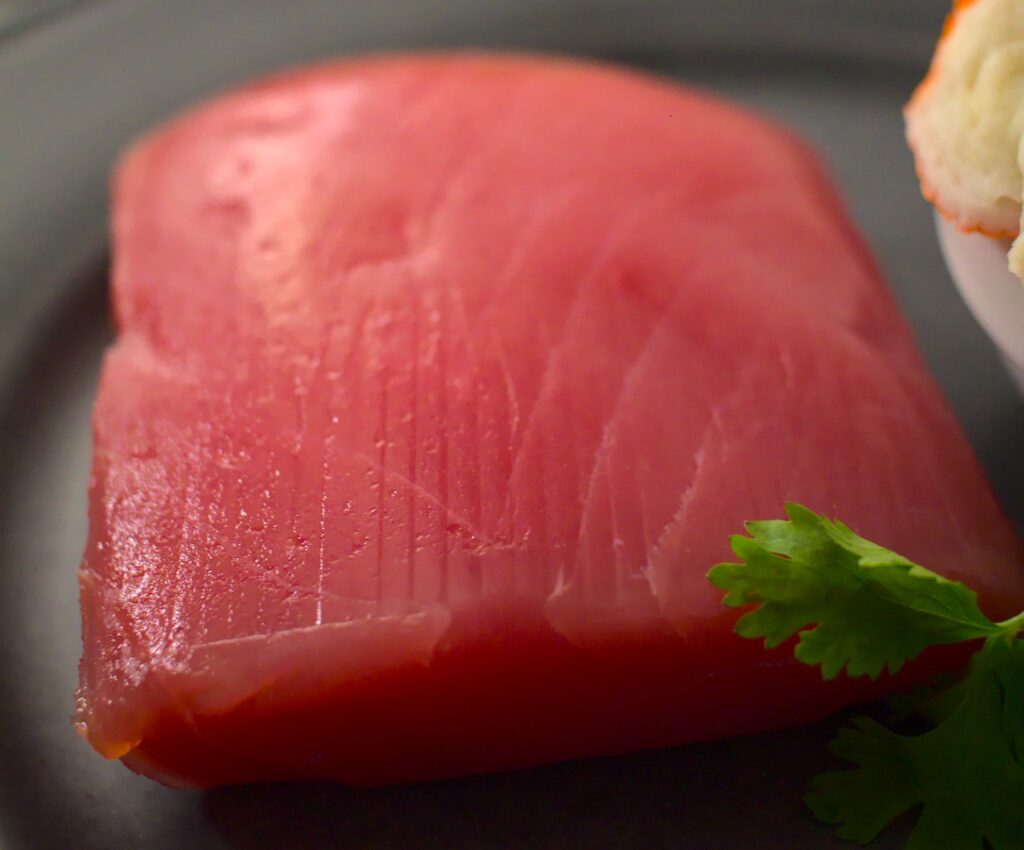 Don't worry though if you can't find sushi grade tuna. You can substitute the tuna with salmon that you can get from your local grocery store. FDA guidelines specify freezing raw fish to kill any lingering parasites that might exist, and most, if not all, commercially available raw salmon has already been frozen. So again, if you are ok with risks associated with raw meat consumption, and you know that your grocery store's salmon had been previously frozen and has followed FDA guidelines, you can probably safely consume it raw.
Now, I get that raw fish ain't exactly everyone's cup of tea, but you really have to give it a chance. Sure, there are some fish out there that are a bit of an acquired taste (I'm looking at you sea bass), but in my opinion, if you're someone who likes a rare steak, you'll appreciate the taste and texture of raw tuna. Completely unlike the canned stuff you might be used to associating with all forms of tuna, this is tender, delicate, absolutely delicious, and definitely not what most folks would describe as 'fishy'.
Alright, enough talk about fish, let's talk poke. Despite all of the sushi mentions, it's actually not a Japanese food, it's Hawaiian. I am pretty sure the recipe we describe isn't a traditional Hawaiian one, but considering how much poke has grown in popularity, I'd have to imagine that a lot of poke is just a take on the real deal. So what exactly is it? Simple: as Annie and I are used to it, it's raw fish with vegetables like carrots, cucumber, and edamame served on a bed of sushi rice.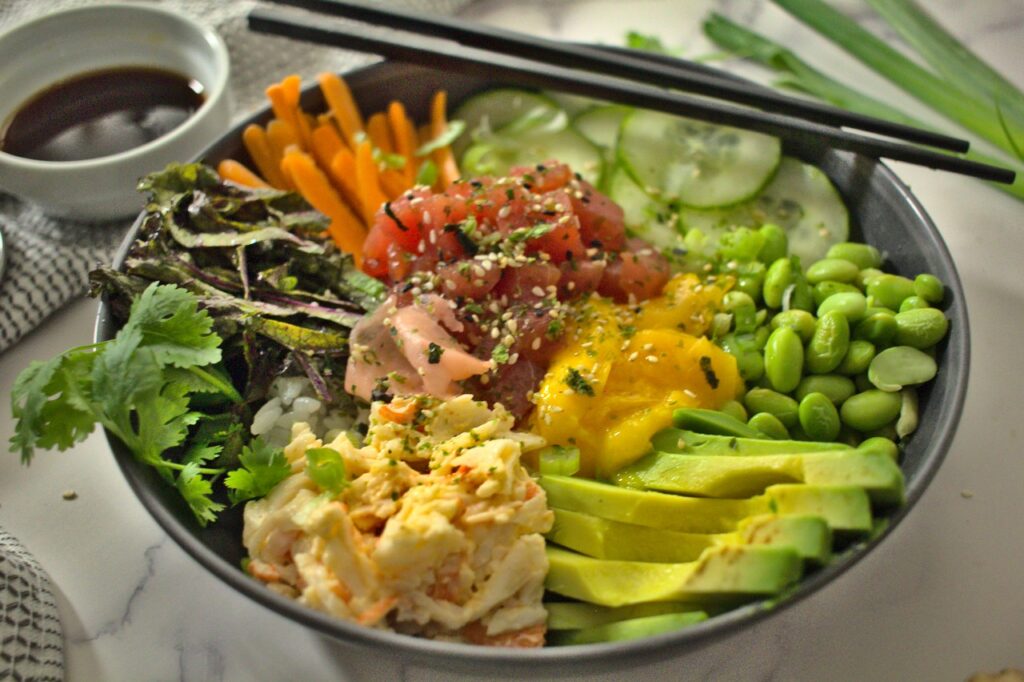 The real tricks to this dish are two things, one of which I've already mentioned: fish. The other is rice. Don't try to use your everyday long grain rice for this. It just won't end up right. Instead, invest in some short grain sushi rice. It will make all the difference.
If you're like me you grew up memorizing the following recipe for rice: 2 parts water to 1 part dry rice. Not so for sushi rice. You need much less water to rice to make sure that you get that sticky, starchy consistency that makes sushi and poke have the taste and texture equivalent to an evening sailboat cruise to your own private island while the smooth sounds of Michael McDonald and Christopher Cross emanate from your favorite Yacht Rock playlist. Don't judge me. I can feel you judging me.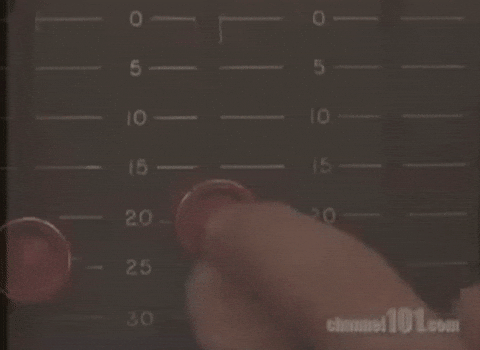 One more thing. And just hear me out on this. Wash the damn rice. This might seem like a complete waste of time, but trust me, washing the rice before cooking will give you much better results. I promise.
The rest of the story is all the 'extras', which can be pretty much anything you want. You'll want to use a medium sized bowl, add a serving of rice, top with some of your imitation crab or tuna, and then dress it with lots of veggies: julienned carrots and cucumbers, kale, edamame, pickled ginger, seaweed salad, or whatever sounds good to you. Add some sauce or sriracha and you're all set.
Grab the chopsticks and enjoy!
Tuna and Krab Poke Bowls
Servings:
4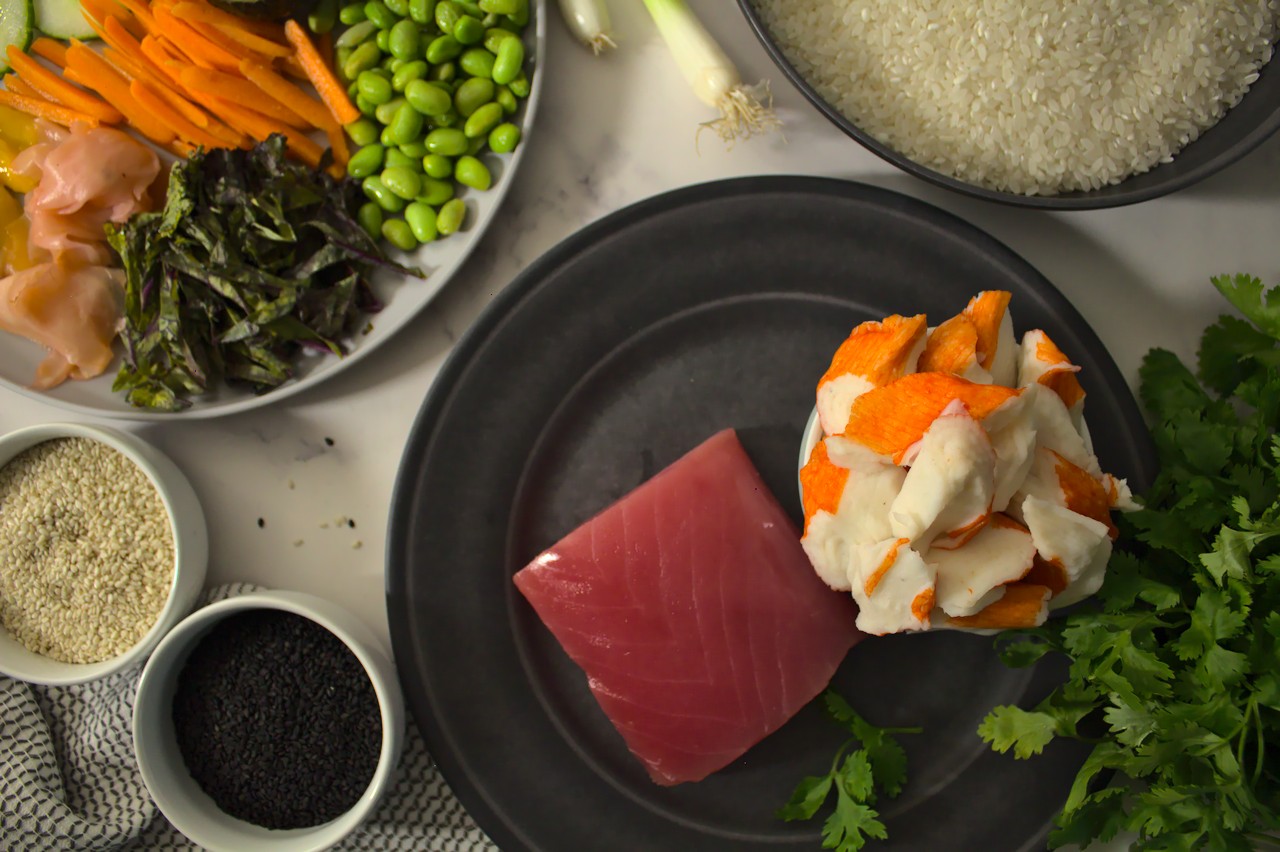 Ingredients
Rice
1 ½

cup

sushi rice

2

cups

water

¼

cup

seasoned rice vinegar
Poke Sauce
¼

cup

soy sauce

¼

cup

mirin

⅛

cup

seasoned rice vinegar

1

tbsp

brown sugar
Poke Bowl
8

oz

sushi grade tuna

8

oz

imitation crab meat

1

sliced avocado

1

cup

julienned carrots

1

cup

sliced cucumbers

1

cup

chopped kale

1

package

frozen edamame

(or fresh, if you want to, but frozen works fine)

2

tbsp

mayonnaise

1

tsp

sriracha

1

cup

sliced mango

1

tsp

sliced green onions

pickled ginger

(to taste)

black and white sesame seeds

(for garnish)
Directions
Rice
Thoroughly wash 1 ½ cups sushi rice in a wire mesh strainer until water running through it becomes clear (it will start off looking very milky).

Add washed rice to 2 cups of water in a small pot over medium-high heat.

Bring rice and water to a simmer, reduce heat, cover, and continue to simmer for 20 minutes.

After 20 minutes, remove the pot from heat, uncover, and empty the cooked rice into a large bowl.

Pour ¼ cup seasoned rice vinegar over the rice. Using a wooden spoon, stir just enough to incorporate the vinegar throughout and lightly fluff the rice.
Poke Sauce
Add soy sauce, mirin, rice vinegar, and brown sugar into a container with an air tight lid (I use a mason jar).

Seal the container and shake vigorously until combined. Alternatively, you can do this using a bowl and whisk.
Poke Bowl
Using a sharp knife, cleanly and carefully dice tuna into roughly ½ inch cubes. Take your time and make long cuts in one direction – don't saw at it.

Combine diced tuna, 3 tbsp of the poke sauce, and green onions into a bowl and gently mix until tuna is coated.

Hand separate (if using flake style) or dice (if using leg style) imitation crab meat.

Combine imitation crab meat, mayonnaise, and sriracha into a bowl and mix until imitation crab is coated. Taste the mixture and add salt or sriracha to your liking.

Into a bowl, add roughly 1 cup of the cooked sushi rice.

Top rice with cucumbers, carrots, edamame, avocado, kale, tuna, and imitation crab in amounts based on your own preferences.

Add some of the poke sauce, garnish with sesame seeds, and optionally drizzle on some sriracha. Serve immediately and enjoy!