Shaun's parents were kind enough to gift us with a kid-free weekend a few weeks back. At the risk of sounding like a cliche, we completely needed it. Cabin fever was getting REAL real.
Our weekend was CRAZY. We went antiquing. We went to art galleries. We didn't go to Bed Bath and Beyond. We didn't have enough time. We also evidently didn't have enough time to go to the grocery store because we got home and realized that we had no idea what we were going to have for dinner.
For a brief, shining moment we considered takout. Then we remembered the vegetables dying in our crisper drawer. And they say romance is dead.
Amazing tomatoes and basil from my sister's garden, some bell peppers (How long have those been in there? Why did we buy them?), arugula… Goat cheese? There was the start of something there.
There were some gnocchi and artichoke hearts in the pantry.
"What the hell? Let's just roast this shit and see what happens." After a few glasses of wine, things always seem like a better idea anyway.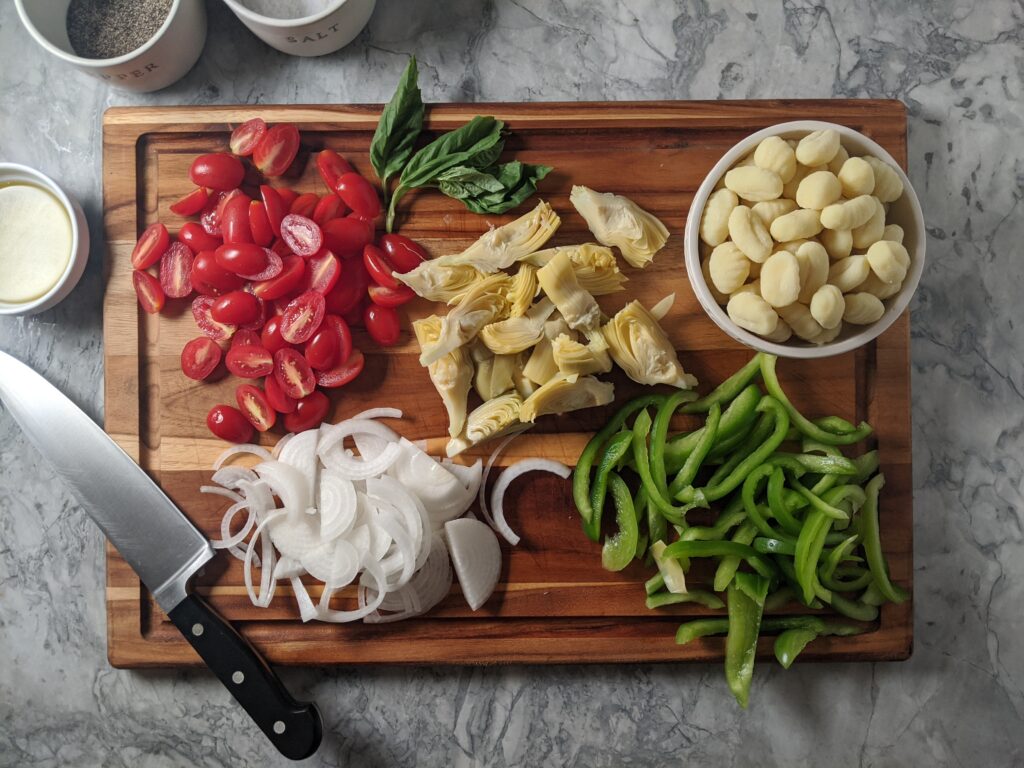 So I poured another glass of wine, cut up tomatoes, bell peppers, onions and artichoke hearts and tossed them with gnocchi, olive oil, garlic salt, pepper and red pepper flakes, divided them between two sheet pans with silpats and tossed them into the oven.
It's important not to crowd the veggies or they'll steam instead of getting super crispy and charred.
While the veggies roasted, I threw a super simple sauce together, and I'm not going to lie: I wasn't even sure that it was going to work.
I started with goat cheese, chicken base, water (you could just use chicken stock), some dry white wine, garlic and lemon, stirred until it was smooth and let it cook down until it was the consistency of a really light alfredo sauce.
When the veggies and gnocchi were pulled from the oven, I poured them over a bed of arugula and topped it all with the goat cheese sauce and fresh basil. Super, super easy.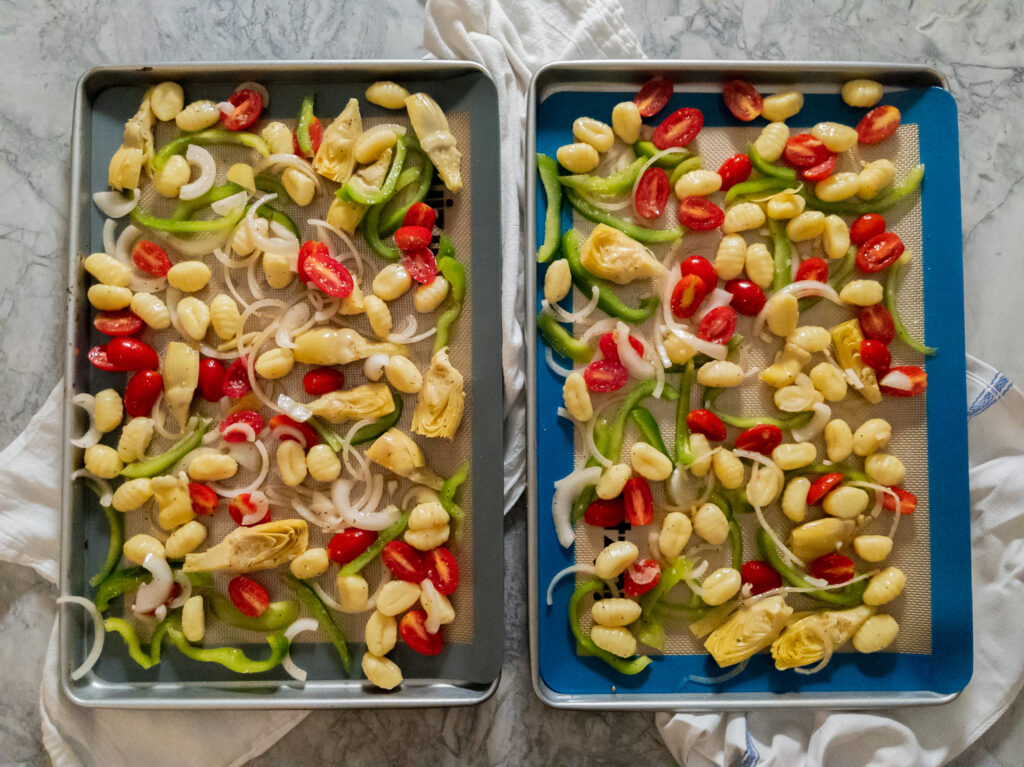 As Shaun and I cleaned the kitchen, we kept snacking on the charred veggies and dipping them in the hacked-together goat cheese sauce. It really wasn't too shabby for a panic dinner!
I think the real beauty is that you could really use any veggies that you have laying around. Asparagus, zucchini, mushrooms… Whatever you want!
Being that I obsess over leftovers, I can tell you that this was amazing – even microwaved- two days later. When we put it away, we just literally scooped the whole lot, arugula and all, into a pyrex container. It didn't get mushy or weird in the fridge, and the arugula didn't wither away to nothing when reheated.
TBH, I really think we'll keep this in our back pocket for easy throw-together dinners.
Roasted Gnocchi with Whatever Veg
Servings:
6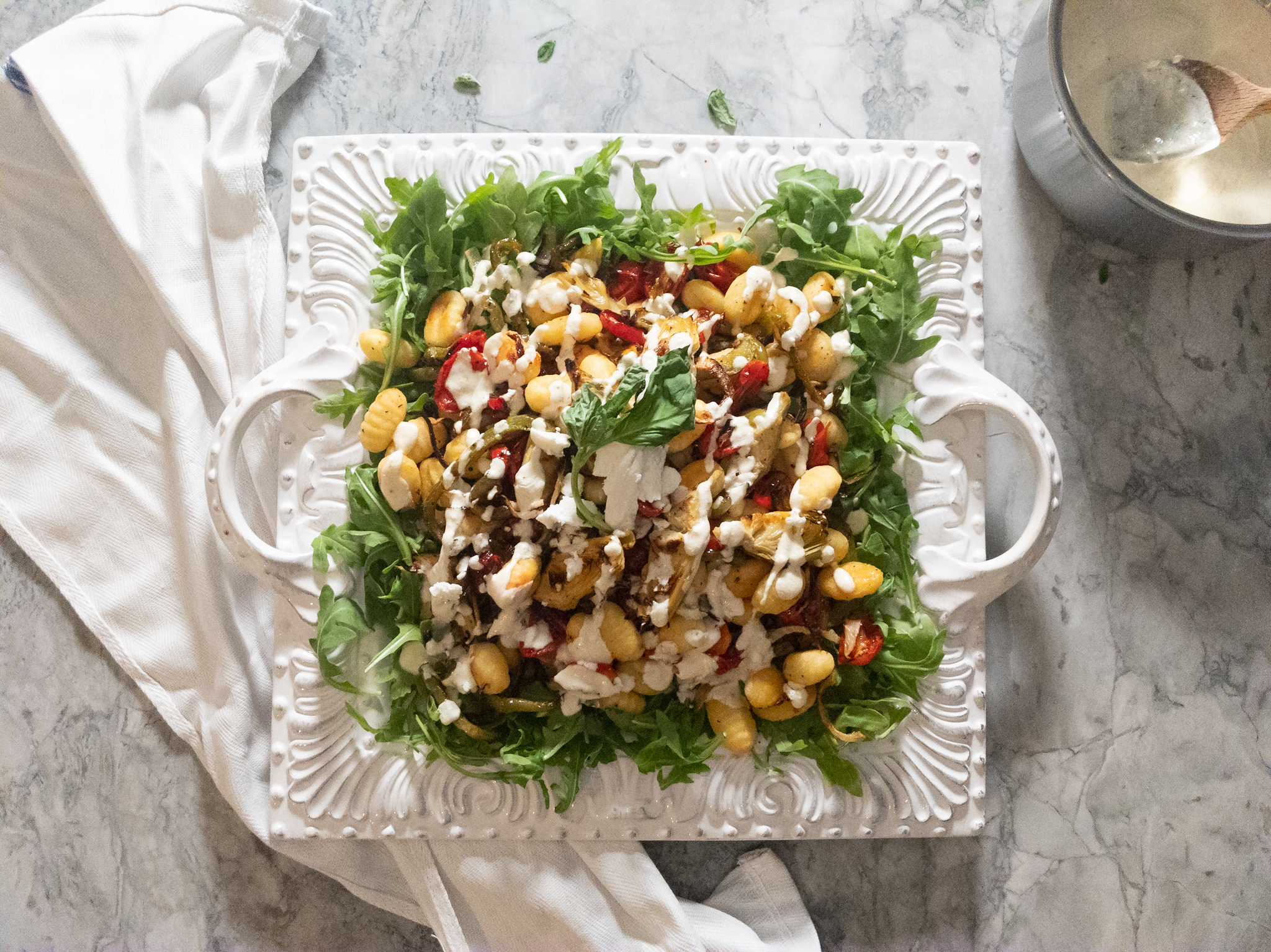 Ingredients
Roasted Items
2

Bell Peppers

1.5

Cups

Tomatoes

1

Medium Onion

1

Can

Artichoke Hearts

16

oz

Packaged Gnocchi

2-3

Tbsp

Olive Oil

Garlic Salt and Pepper to Taste
Sauce
8

oz

Goat Cheese

1.5

Cups

Water

2

Tbsp

Chicken Base

(You could easily use chicken stock instead)

Minced Garlic

(About 1 clove, but measure it with your heart)

Lemon Zest to Taste

Salt and Pepper to Taste
Directions
Preheat oven to 450 degrees. If you have a convection oven, use that feature! Convection circulates the heat throughout the oven and will make the veggies crispy and caramelized in the most delightful way. No sweat if you don't have it though. You will still get great results!

Chop your veggies into roughly the same shape and sizes so that they cook evenly.

Toss veggies, gnocchi, olive oil, garlic salt and pepper together in a bowl to coat evenly.

As a side note, I considered par-boiling the gnocchi prior to throwing them in the oven, but since I'm lazy garbage, I did not. I stand by my decision as it resulted in gnocchi with a crispy shell, which is the way I like them. Feel free to boil yours first though. I think that they would just be much softer, and if that's what you like, I'm not here to judge.

Spread the veggies and gnocchi evenly over a couple of pans – and make sure they have enough room for social distancing. If they're too close, they'll steam instead of crisp. Nothing against steamed veg, but I live for the ones with burnt edges, and this is my "recipe". (I clearly use that term very loosely.)

Let them hang out in the oven for about 20 minutes, or until the edges get nice and crispy.

In the meantime, chunk your goat cheese up a bit, throw it into a sauce pan and put it over medium heat. When it starts to melt, add your wine, chicken base, garlic and water and stir until smooth. Increase the heat and let it cook down until it is about the consistency of light alfredo sauce. At the end, I decided that it needed a little brightness, so I added a little lemon zest.

When the veg and gnocchi have been pulled out of the oven and cooled a bit, layer them all over a bed of arugula and top with the warm goat cheese sauce. This part is great because it wilts the arugula a bit, but not so much that it completely takes away the bite.

Finish with fresh basil and more lemon zest if it makes your heart sing.