Here's the deal. I didn't grow up eating chicken and dumplings. I legitimately don't think that my parents ever made them. I don't think that their parents ever made them. I used to chalk that up to the fact that chicken and dumplings are southern and I come from midwestern stock, but I don't think that's true. Everyone makes them right? I could google it, but we've already established that I'm too lazy for, well, almost everything.
At any rate, I never even had them until I made them on a lark after we'd been married for probably 5 years. I get the appeal. They're filling and soul-warming, but I also feel like they're a little one-note. I want the dumplings to have a little more texture, kind of like matzo balls. I want some interesting, unexpected flavors.
I can't leave well enough alone.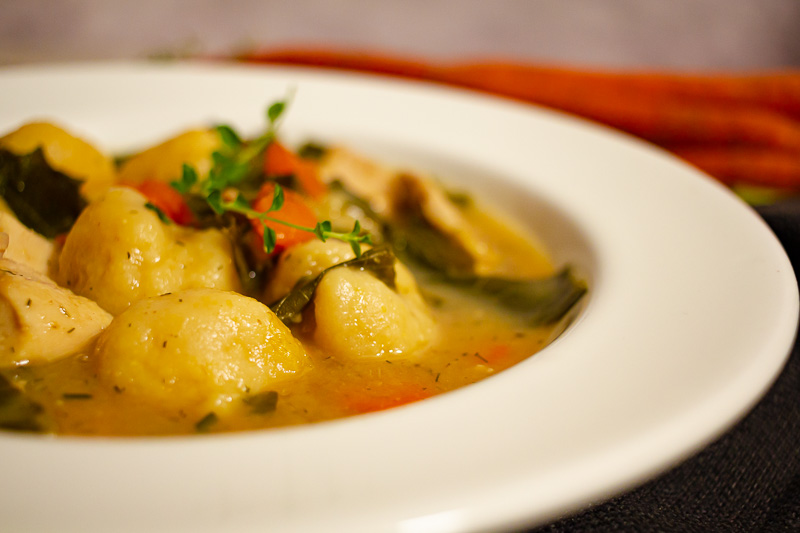 As I type this, grandmothers of all nationalities are screaming, praying for me, and forming a militia to come set me straight.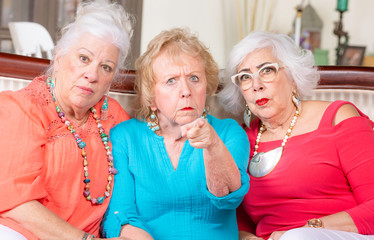 I honestly looked for cornmeal dumpling recipes and found some that I actually considered from Joy the Baker and Smitten Kitchen, but they weren't exactly what I had in mind, and more than that, I was just straight up not in the mood to follow a recipe because I am very rarely in the mood to follow a recipe. Sorry. I'm just keeping it real.
I ended up just making up some biscuits, substituting some cornmeal for the flour. My first attempt was way too gloopy and the dumplings just kind of fell apart, so I added more flour and salt. It turned out beautifully.
Guys, I've actually been craving this since the weather turned cool again. The fresh herbs, wine, apple cider vinegar, and collards are perfect foils for the ever-so-sweet-in-that-corny-way, light fluffy dumplings.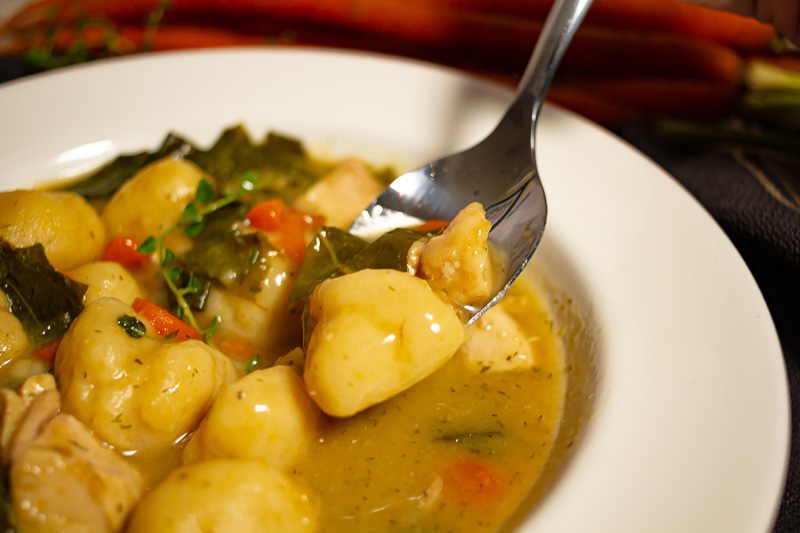 I think my southern born and bred husband liked them too, which I think is high praise considering that he did grow up on chicken and dumplings, and is the king of collard greens. (Seriously. He makes the best collard greens ever. He actually made me learn to love them. But I will never learn to like unsweetened southern-style cornbread, aka the wrong way to make it. Fight me.)
Chicken, Cornmeal Dumplings, and Collards
Servings:
8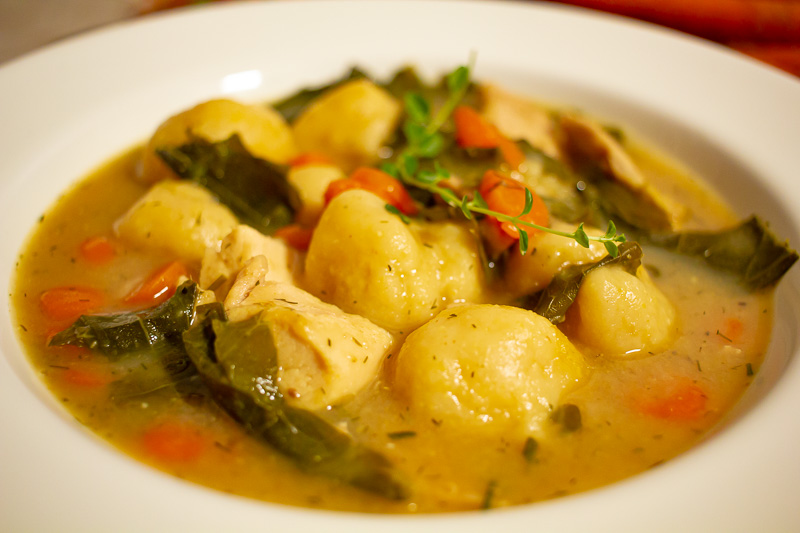 Ingredients
Soup
10

cups

chicken stock

4

boneless, skinless chicken thighs

3

cups

collard greens, tough stems removed, cut into fork-sized pieces

3

carrots, cut into coins

½

large, white onion, diced

½

tsp

rosemary, finely diced

1

tbsp

dill, finely diced

1

tbsp

chives, finely diced

½

tsp

thyme, finely diced

½

cup

dry white wine

2

tbsp

apple cider vinegar

hot sauce, to taste

salt and pepper, to taste
Dumplings
2 ¼

cups

all purpose flour

⅔

cup

yellow cornmeal

2

tbsp

sugar (or less, to taste)

1

tbsp

baking powder

1

tsp

salt

1

stick

chilled butter, cut into small cubes

1

cup

buttermilk

1

tbsp

chives
Directions
In a large pot or dutch oven, bring chicken stock to a low rolling boil. Add chicken thighs. I used frozen chicken thighs, but if you have fresh, you will likely not need as much stock or broth to begin with because the chicken will take less time to cook and therefore less stock will cook off. If you are using frozen chicken, wait until the chicken is thawed before you add your onions and carrots, but if you're using fresh, the chicken, onions, and carrots can all go in the pot at the same time. You just don't want to end up with mushy carrots.

While your chicken cooks, mix flour, cornmeal, sugar, baking powder, salt, chilled butter, buttermilk and chives together with a pastry cutter or forks at first, then with your hands. You want to mix it until it is JUST combined and no longer sticky and not a second more or you will end up with dense dumplings. If they seem too sticky, you can always add more flour, one teaspoon at a time until they reach the right texture. If they're too crumbly, add milk one teaspoon at a time. These are meant to be "drop" dumplings, so you should be able to pinch off a piece and gently make it into a ball-adjacent shape before dropping it into the stock. Let the mixture rest for 5 minutes or so.

Once the chicken has cooked to 165 degrees, pull it out of the stock, and set aside to let it cool.

Add collards, wine and vinegar to the stock.

Pinch off or scoop walnut-sized dumplings with a spoon one-at-a-time and put them into the simmering stock. Gently stir, cover and let simmer for 15-20 minutes until the dumplings have puffed and are cooked throughout.

While the dumplings are simmering, cube or pull the chicken, removing any skin or bone.

When the dumplings are finished, add the cubed chicken back into the stock along with the herbs, and add a few dashes of hot sauce (or ACV, wine, or a combo thereof), salt and pepper to taste. Let simmer for another 5 minutes to let the flavors marry.

Serve immediately and watch out for angry grandmas, omas, bubbies, and anyone else who will be very upset that you changed the recipe.