In this world, there are two different types of people. Brinner people and anti brinner people.
Shaun falls firmly into the anti breakfast-for-dinner camp, saying that he thinks that it is too heavy to eat at night. That opinion is stupid for a number of reasons.
Brinner is delicious
He will easily eat his way through the heaviest carbiest pasta with no complaint.
Even if brinner is heavier than other meals, you can just put yourself to bed and sleep it off.
I do have to say that I hate eggs (yes, I know…), so with the exception of lox and bagels, I do definitely go for sweet breakfast options, which I guess is a turn-off for some people. Whatever.
At any rate, I had pretty much given up on my campaign for brinner (my record was about 4:3,765) when I had the idea for savory french toast.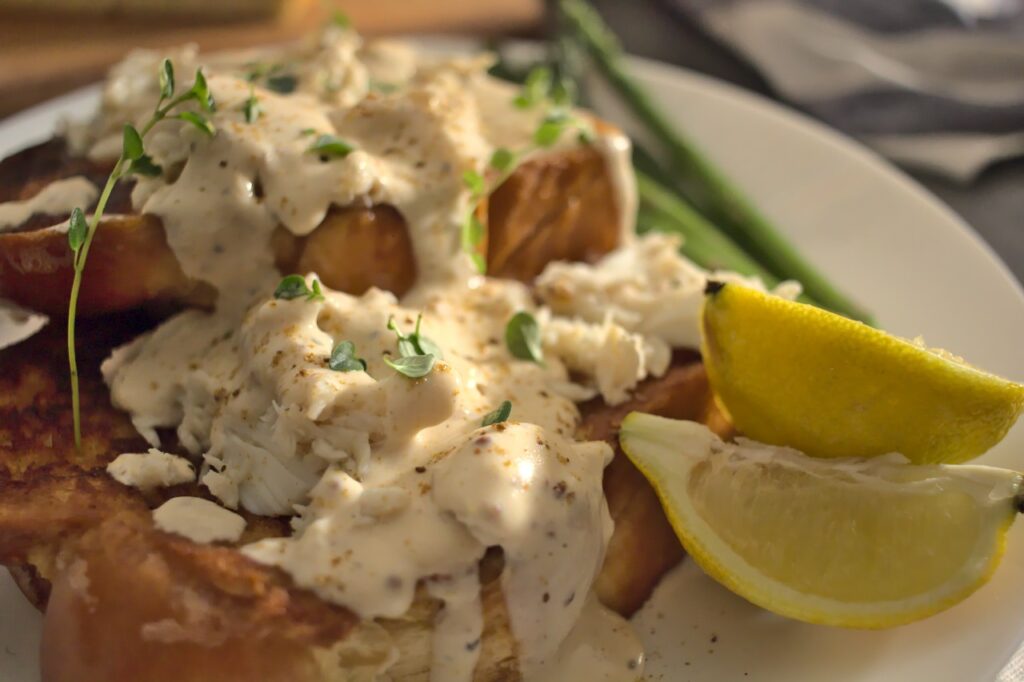 I heard someone on the Bon Appétit network mention liking ketchup on her french toast when I thought "What if I could make french toast that was savory? Maybe Shaun would actually let me have breakfast for dinner for once?" He seemed to be game.
Old Bay, mustard, sherry, cream, and shallots… think of this as basically a deconstructed (I'm aware that this term is about 10 years out of date) crab cake. In my book, this is literally the perfect marriage of breakfast and dinner. Also, the perfect brunch. Essentially anything where I can drink champagne while I'm eating this.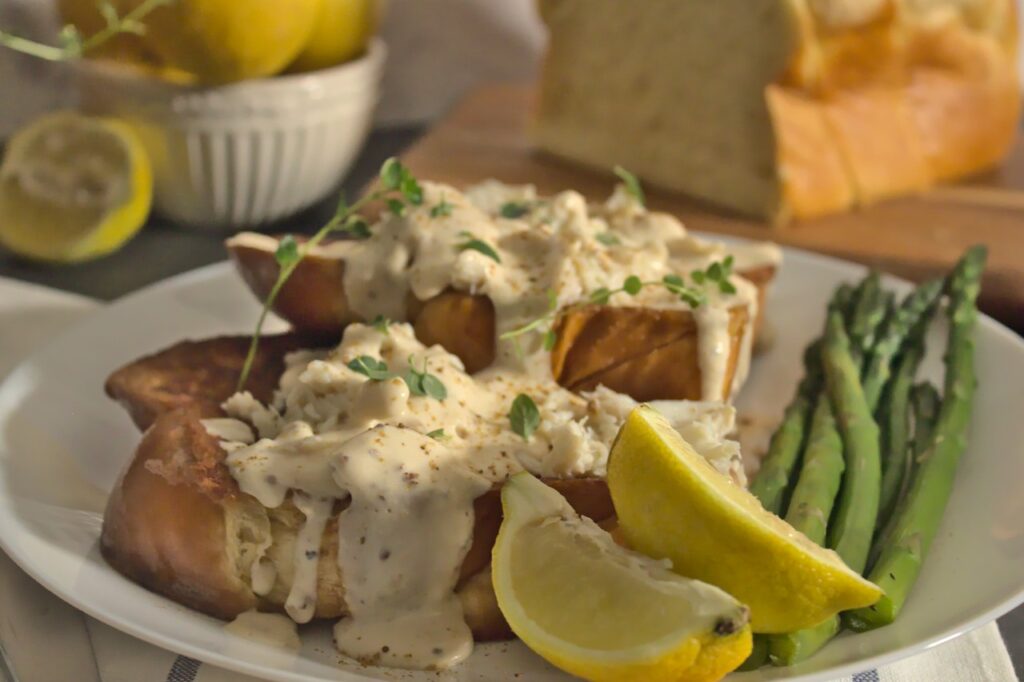 I may not be able to do anything to bring us all together on a political level, but I think I may have just solved our breakfast for dinner problems.
SAVORY FRENCH TOAST 2020
Savory Crab Cake French Toast
Servings:
6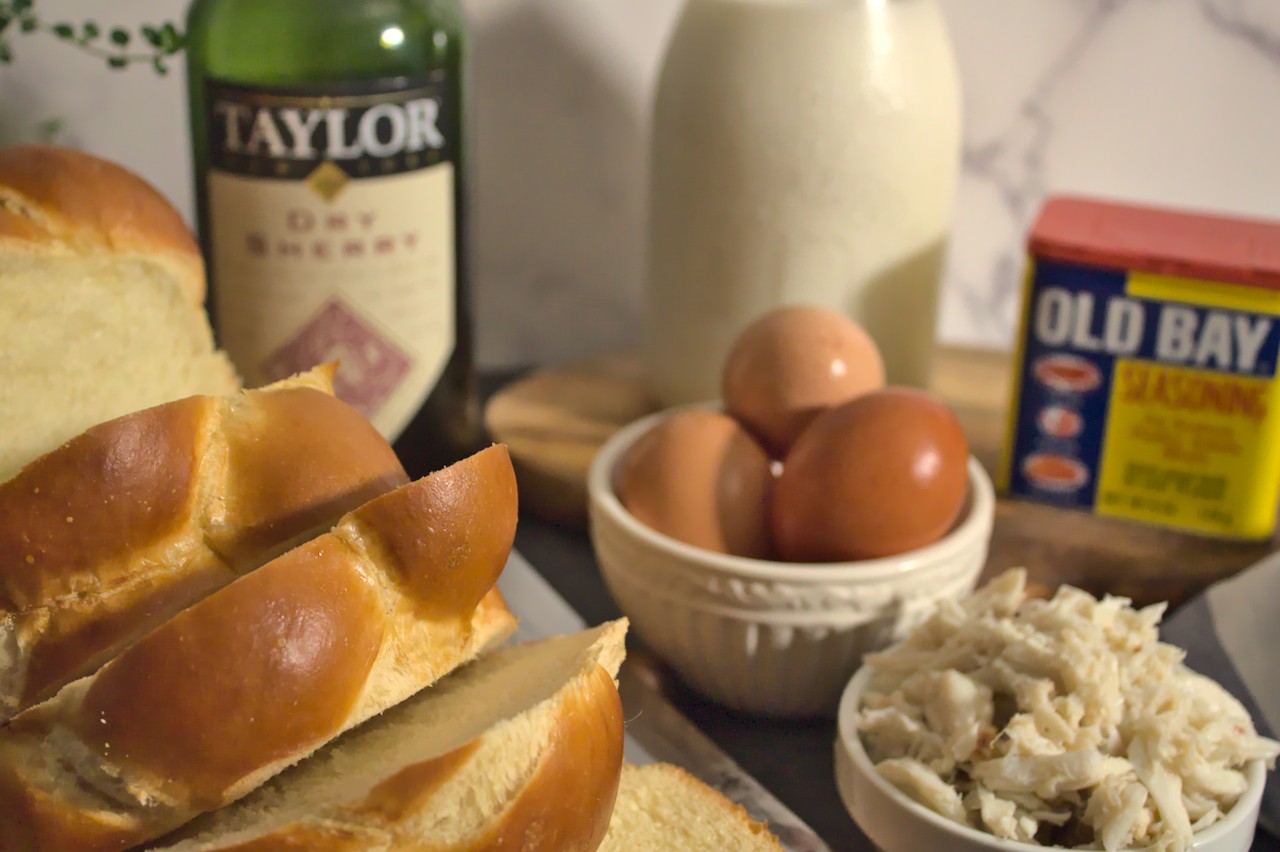 Ingredients
French Toast
6

slices

challah or brioche, 1" thick

6

eggs, beaten

1

cup

milk

1

tsp

Old Bay seasoning

½

stick

butter

salt and pepper, to taste
Sauce
2 ½

tbsp

butter

1

small shallot, very finely diced

1

tsp

minced garlic

¼

cup

dry sherry

1

cup

heavy cream

1

tsp

Old Bay seasoning, or more to taste

zest from one small lemon

6-8

oz

fresh lump crab meat, checked for shells

salt and black pepper, to taste

fresh thyme, if desired
Directions
Combine milk, eggs, Old Bay, salt and pepper in a glass baking dish, and soak bread. The bread should be wet with the custard mixture, but not so soggy that it is falling apart.

Melt the butter in a sautée pan and cook the bread until golden brown, about 2-3 minutes per side.

Keep french toast warm at an oven set to 170 degrees until you are ready to serve.

Meanwhile, in a sautée shallots in butter over medium heat until they are soft and translucent. Add garlic and sautée for another 30 seconds or so, taking care to keep the garlic from burning.

Add the sherry and cook until it has reduced by half.

When the sherry has reduced, add the cream and cook until it has reduced by about a quarter.

Reduce heat to low and add Old Bay, salt, pepper and lemon zest.

To serve, put a few ounces of crab over each piece of French toast and pour sauce over, which will gently warm the crab. Top with a bit of lemon zest, a couple of shakes of Old Bay and a sprig of fresh thyme.

Pair with mimosa, champagne, or your favorite brunch/brinner cocktail.