We often say that cooking in our house is like an episode of Chopped. There's just a bunch of seemingly unrelated ingredients that we have to throw together in some sort of coherent way while under a time crunch, and then someone judges our best efforts at the end.
The judge in this case sleeps with a star nightlight and thinks that Frozen is a cinematic masterpiece. Also, a glowing review from her is "Hmm… Pretty good" or "Not too bad". Spoiler: it's our four year old, Birdie.
What happened to us??
Anyway, also much like Chopped, sometimes you'll get to the point in a dish when you really need an ingredient and you realize that the other contestant has used the last of it without your knowledge. You're already invested though. You have to figure out how to make it work anyway.
That was this dish. I had hamburger buns, ground turkey, a bunch of herbs and some leftover tzatziki sauce. I thought I'd be clever and toss together some sort of Mediterranean-inspired turkey burger.
Being that the turkey was super low in fat, I knew that it had the capacity to get very dry when used as a burger (eww, David), plus I thought it would be nice to use up the herbs shriveling in the fridge. So I figured I'd make it almost meatloaf style. That is to say, I'd bind it with a little bit of bread crumbs, some egg, and herbs – just enough to keep it moist. (Sorry, had to use that word)
I chopped the herbs, added the breadcrumbs on top of the turkey, and went to the fridge to grab some eggs. No eggs. The other contestant had used them all for the judge's breakfast (He'd earned a "Pretty good"). Damn. What now?
My solution? Mayonnaise. It was a risk, but I was already committed and the judge was asking for a pre-dinner snack.
Guys. This was a game-changer. I'm never going back to eggs again. The mayo not only acts as a better binder, but the oil keeps the meat much juicier – even when leftover. You know I live for leftovers.
I ended up serving them on toasted buns with lettuce, some tzatziki, and some curried chickpeas on the side (literally just canned chickpeas, salt and curry powder).
In the end, the judge did not eat the lettuce or the bun, but asked for seconds on the patty and the chickpeas. It is unclear if she liked dinner better than breakfast, but she didn't ask for seconds on scrambled eggs…
Mediterranean Turkey Burgers
Servings:
4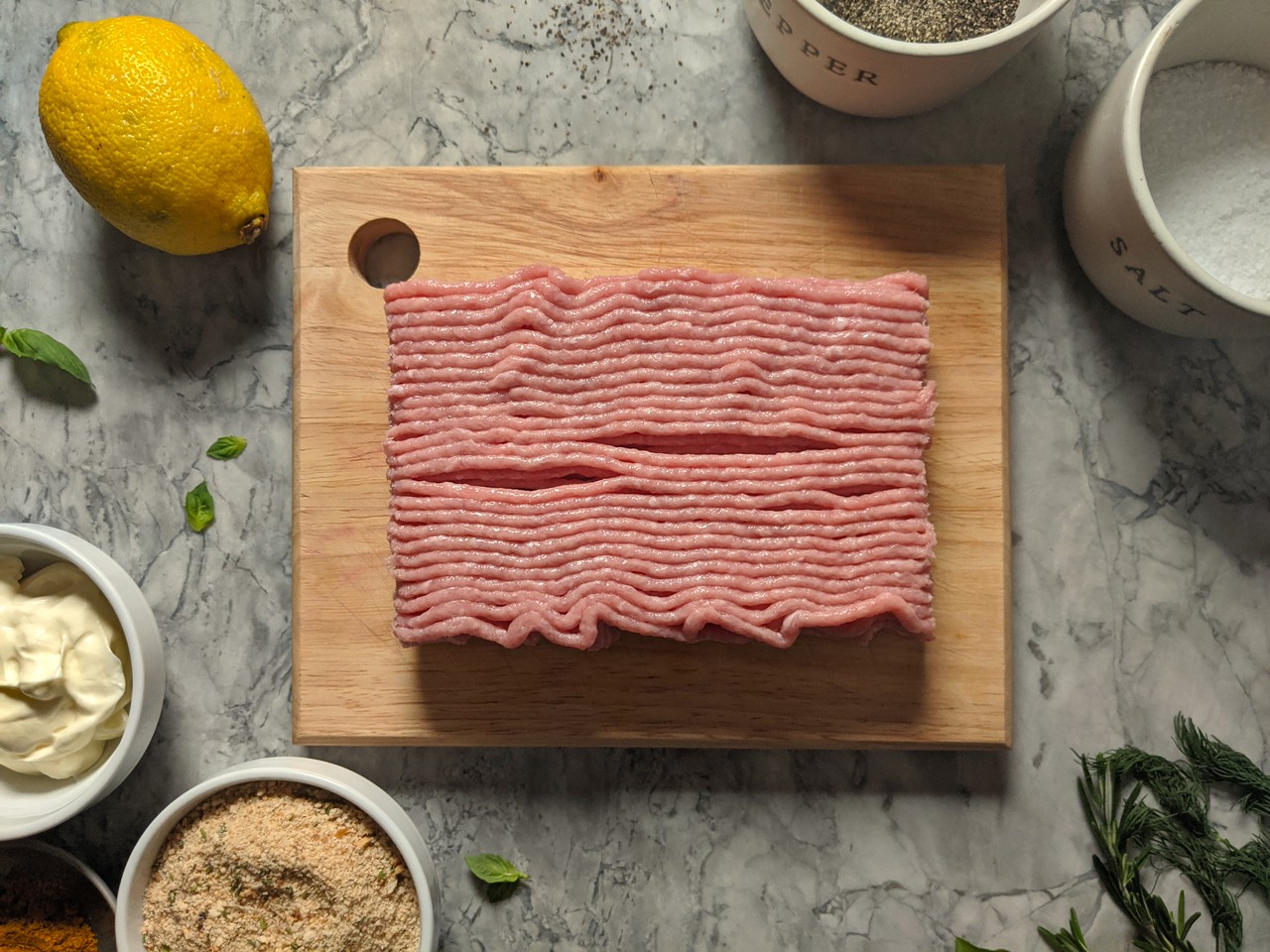 Ingredients
1

lb

ground turkey

½

cup

seasoned breadcrumbs

¼

cup

finely diced herbs

(dill, basil, rosemary)

2

tbsp

mayonnaise

(heaping)

½

tsp

curry powder

¼

tsp

lemon zest

2

tsp

vegetable oil

salt and pepper

(to taste)

hamburger buns

(for serving)

lettuce

(for serving)

tzatziki sauce

(for serving)
Directions
Place ground turkey, breadcrumbs, herbs, mayonnaise, curry powder, lemon zest, salt and pepper into a large bowl. Mix (I find your hands are your best tools here) until just combined. Overmixing meat leads to a weird chewy dense texture that most people find unpleasant.

Split mixture into even amounts and form into patties. I usually get 4-6 patties, depending on the size I'm making that day, which is usually dictated by what sides we're having.

Heat a large skillet over medium heat and add oil. Once the skillet is hot, add the patties and cook until they've formed a nice crust on the bottom, or about 3-4 minutes. Flip and cook on the other side for another 3-4 minutes. Remove from pan and let rest.

Not necessary, but definitely nice- butter the inside of the buns and put them in the still-hot pan until they're toasty and buttery like the outside of a grilled cheese. About one minute. If you're not already toasting your buns, doooooo it.

Spread tzatziki on buns, add lettuce, and serve.