It's Sunday afternoon, do you know where your chicken sandwich is? Well it ain't at Chick-fil-A, now is it? Did you know that each Sunday, the collective groan emanating from people all over the Southeast just wanting some tasty chicken sandwiches can be heard hundreds of miles away?
Ok, I can't back that up. But I do have some good news: you, too, can have a delicious, Southern style chicken sandwich any day of the week!
Let me go ahead and say one thing: I am not claiming that this is an exact recreation of that tasty, tasty Chick-fil-A chicken. When I set out to try this recipe, I wanted more of a "in the spirit of" type of creation. So if you're here looking for an exact at-home recreation of fast food glory, you might be disappointed.
That doesn't mean you have to feel like you're getting a downgrade, though. These had every bit of that special little something that makes Chick-fil-A the south's In-N-Out Burger: dill pickles.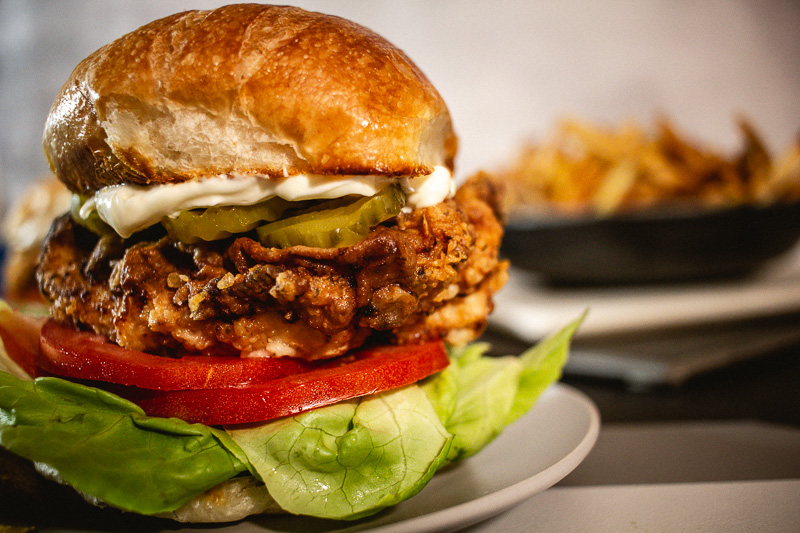 I've said before that I always brine chicken before I cook it. Well, it's a little different this time. Rather than making a brine and letting the chicken soak in it, I made a marinade consisting of primarily milk and dill pickle juice.
Yes, I am well aware that a lot of folks just use buttermilk, but guess what you get when you add a little bit of vinegar to milk? You get buttermilk. It's something we've done in a pinch on several occasions. By adding the vinegar-y pickle juice to plain milk, you get the start of a buttermilk marinade, but with some dill pickle flair. Plus it means our lazy asses don't have to worry if we have buttermilk in the fridge.
I chose a very specific jar of pickles to use for these sandwiches: hamburger dill pickle chips (Publix store brand, to be exact). Why? To me these tasted saltier and more acidic, which was exactly what I was looking for. Plus, I could use the pickle chips to put on the sandwiches. You could probably use any old dill pickle juice though, but your mileage may vary. Just remember you're going for brine-y, dill-packed flavor.
We fried these up using our deep fryer, but you could use whatever method you are most comfortable with. I like using the deep fryer from time to time because we can fry things outside without making our entire house smell like fried food for a week. Fry these up to a crispy golden brown, put them on a bun with some dill pickle chips, and serve with some french fries. Sunday chicken sandwiches, y'all. Yum.
Southern Style Chicken Sandwiches
Servings:
6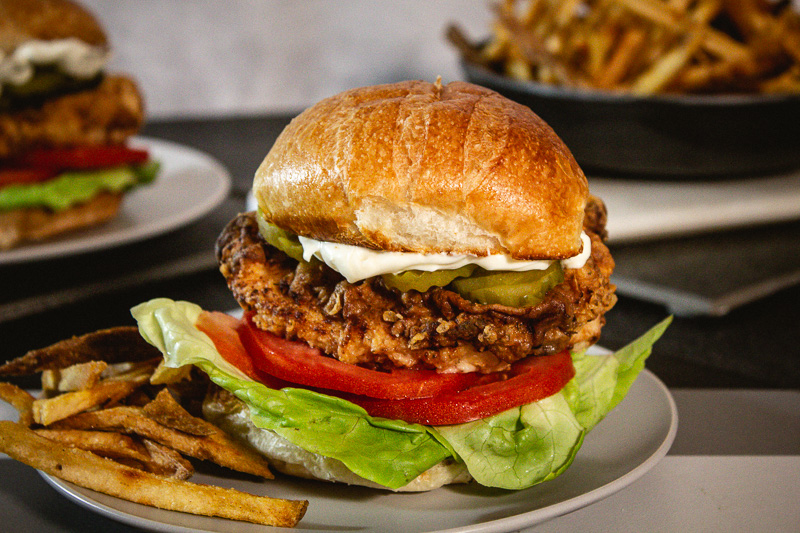 Ingredients
6

chicken breast cutlets

oil for frying

(we used canola oil)
Marinade
1

cup

milk

½

cup

hamburger dill pickle juice

1

tsp

dried dill

1

tbsp

salt

1

tsp

pepper
Breading
2

eggs, beaten

2

cups

flour

1

tsp

dried dill

1

tbsp

salt

dash of cayenne pepper
Directions
Make the marinade by combining milk, pickle juice, dried dill, salt, and pepper in a gallon freezer bag.

Add chicken cutlets to the bag and ensure that they are submerged and fully coated with the marinade. Seal the bag and place in a bowl (to prevent any spills) in the refrigerator for 1-2 hours.

About 20-30 minutes before removing the chicken from the refrigerator, heat oil to a temperature of around 350 degrees. We have a deep fryer, but use what you are most comfortable with (oil in a pot on your cooktop, cast iron skillet, etc).

Into 2 glass baking dishes, add 2 beaten eggs into one dish, and the flour, dill, salt, and cayenne pepper into the other. Set these baking dishes next to your fryer as a breading station.

Remove chicken cutlets from the marinade, cover in the beaten eggs, cover in the flour mixture, then place in the hot oil. Cook for approximately 6-8 minutes, or until golden brown and the internal temperature of the chicken has reached 160 degrees. Remove and set aside on a plate covered with a paper towel and allow to cool slightly, enough for some carry-over cooking to bring the internal temperature to 165 degrees.

Serve chicken on sandwich rolls with 3-4 dill pickle slices and any toppings you prefer (lettuce, mayonnaise, tomato, or even more pickles).