Aackshually, we are only very technically Millennials. I think our families got desktops in 1995, and we didn't get cell phones until like Junior year of high school (I see you, hand-me-down Nokia 5110), but some jerk arbitrarily slapped some dates on us, and now our love of avocado is a cliché that we have to live with. Leave Britney alone, amirite?
Seriously though, a perfect avocado is one of life's greatest little pleasures. Some sliced avocado with sprouts on a turkey sandwich? Delish. Half an avocado on a good slice of toast with some bagel seasoning? My generation's raison d'être.
Now, for some reason, one of the few things that 2020 didn't ruin was nectarines. They were glorious. Crisp. Juicy. The perfect amount of tartness that made them superbly refreshing. You couldn't eat one casually. You needed an intimate moment. Alone. Just you and the… sextarine…
This particular night (and most in our house) we opened the fridge to realize that we needed to use something imminently. In this case, it happened to be some fresh buffalo mozzarella that we bought at the farmer's market, because, buffalo mozz, man. By no means do you have to use buffalo mozzarella. Basically any fresh mozzarella will do.
I also saw about 20 nectarines that I panic purchased, worried that they might be the last good ones of this perfect season.
I immediately thought of this Peach, Ricotta, Avocado salad that I saw in Food & Wine a few years back. We could totally riff on that.
It paid off in spades. We're still dreaming of this meal. It was light and refreshing, but filling enough to be eaten as dinner.
You could throw some arugula and prosciutto into this salad and serve it with some grilled ciabatta and rose, et voilà! Instant brunch. You're welcome.
What do I know though? I'm just a Millennial who spends all her money on avocado toast.
Avocado, Nectarine, and Buffalo Mozzarella Salad
Servings:
4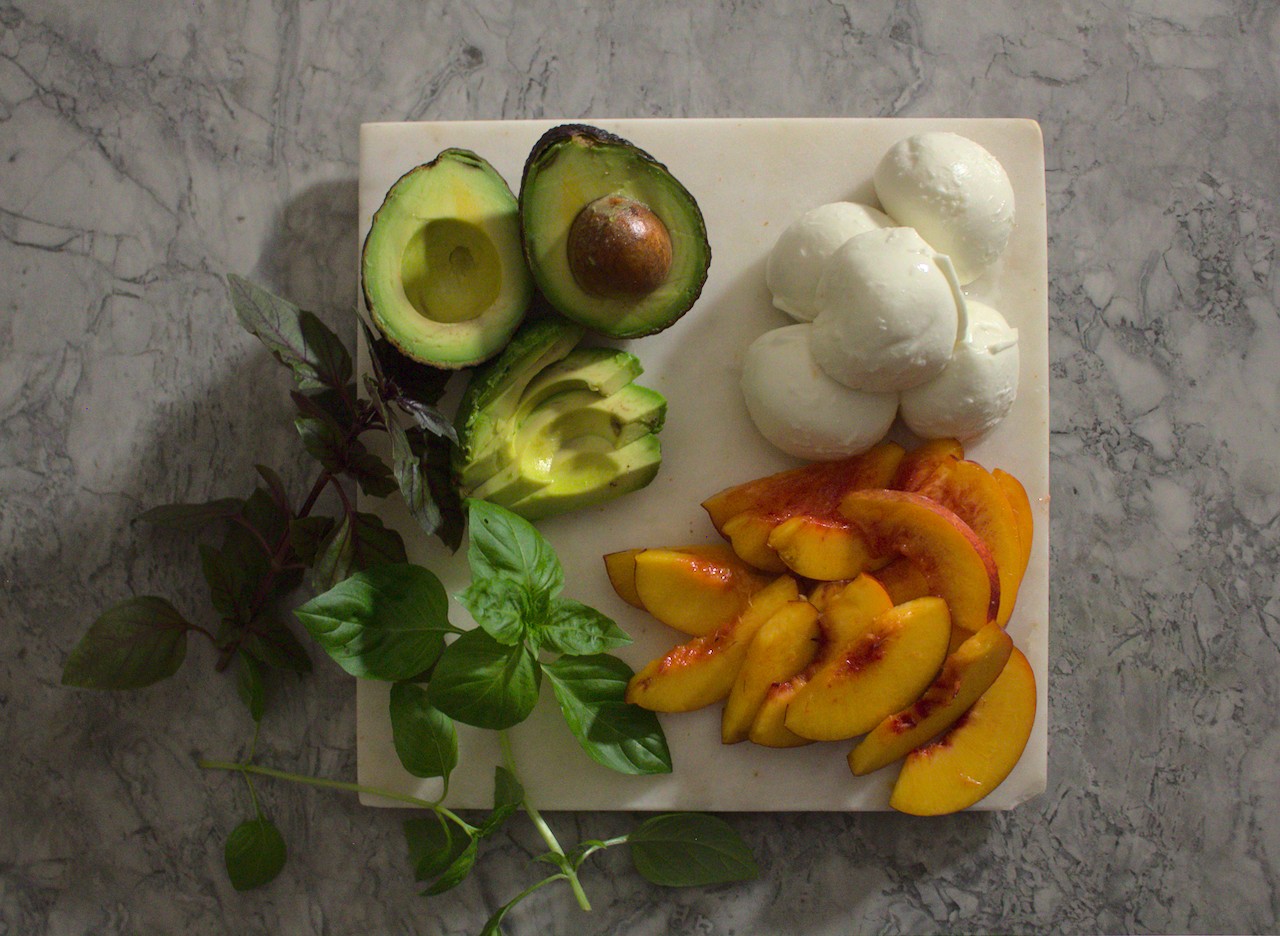 Ingredients
2

Avocados

(sliced lengthwise)

2

Nectarines

(sliced lengthwise, yellow nectarines are best!)

8

oz

Fresh Mozzarella

¼

cup

basil

Balsamic Reduction

(to taste)

Fresh Ground Pepper

(to taste)

Sea Salt

(to taste)
Directions
Slice avocados and nectarines into approximately the same size pieces and lay equal amounts on each plate.

Drain (but do not completely dry!) fresh mozzarella and add to each plate.

Finish with a drizzle of aged balsamic reduction, basil, sea salt, and a generous amount of fresh cracked black pepper.

We found that when plating these, the messier, the better. When we tried to line up the slices, it looked all wrong. This is a super casual meal. Don't overthink it!