It's not even Thanksgiving yet and folks are already out here putting up Christmas decorations and dusting off their Amy Grant Christmas CD. Like, come on, can't we at least get through November before we start playing Mariah Carey on repeat and showing Santa's fat ass everywhere?!
Well in the spirit of telling Christmas to mind its own damn business and stay the hell in December, I'm here to share my recipe for one of my most requested Thanksgiving staples: collard greens. But these collard greens aren't what you might be accustomed to. It might be considered a Southern sacrilege, but my recipe for collards is completely meatless.
Most born-and-raised Southerners know how much of a Thanksgiving cornerstone collard greens are. Hell, if you're like my family, you'll have them at pretty much every family gathering between Thanksgiving and New Year's Day. It's just what you do. But it's not like collard greens are gracing the table like they're giving a one-man show at a community theater. You're definitely going to be seeing a bowl of greens with ham floating around in there.
Personally, I like the flavor you get from having ham in there. Growing up, we would always take the bone from a whole ham we cooked and just toss it in the pot. But making them for Thanksgiving now is a bit of a challenge since Annie neither eats pork nor wants chunks of meat floating around with vegetables.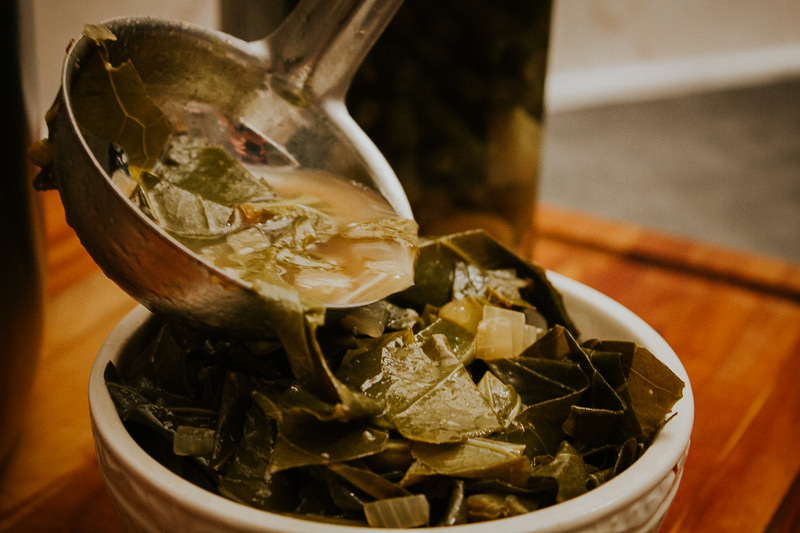 Several years ago, I set out to try and create something we both could enjoy. A pot of greens that could be flavorful, but without needing to add any meat. This was definitely one of those "I don't have a recipe, I just know what it's supposed to taste like" kind of experiments. To be honest, we typically cook that way.
The secret here is to start with a really good broth. I always end up dousing a serving of greens with vinegary pepper sauce, so this broth is going to be similar in flavor: a bit more tangy with just a little bit of heat. With a good broth in place, then it's all about cooking the greens until they're tender, but not so much that they're sad and flaccid. I'll typically avoid shredding collards and instead opt for larger, whole pieces about 2-3 inches in size. I want them cooked, but still to have some bite to them. Let's go with al denté.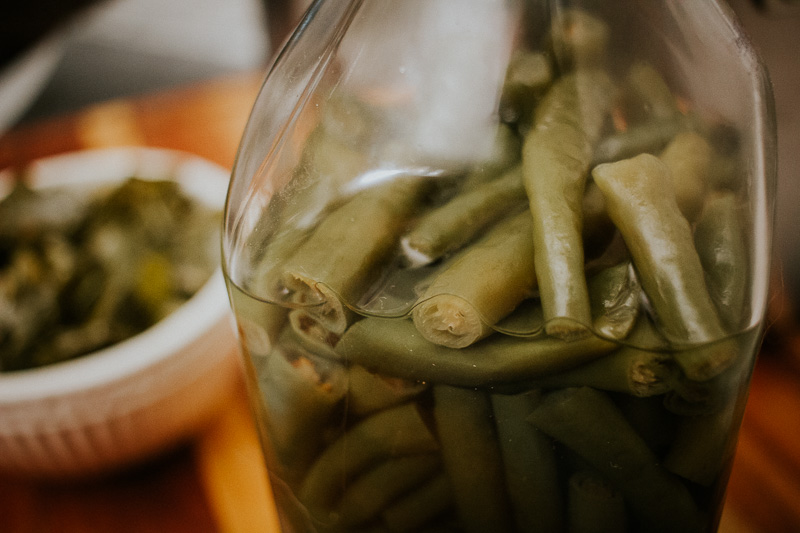 Never would I have thought that these meatless collard greens would have been the hit that they are. Annie absolutely loves them and like I said, I specifically get requests to make them. I would have thought not putting ham in collard greens would have resulted in riots in the streets, but they've been well received, so I'll call that a win.
No-Meat Collard Greens
Servings:
6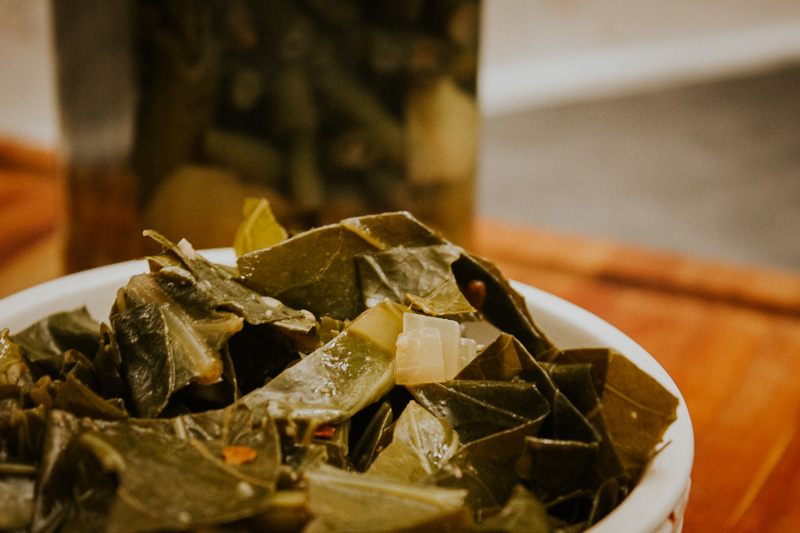 Ingredients
2

tbsp

oil

½

medium onion, diced

1

tbsp

minced garlic

2

qt

water

1

cup

white vinegar

½

cup

pepper vinegar sauce

(you could also use white vinegar and add a little extra red pepper flakes)

1

tbsp

vegetable base

4

tbsp

chicken base

¼

tsp

red pepper flakes

16

oz

collards, ripped into small pieces

(this is about one bag of pre-cut collards, or about one bunch of whole collards)
Directions
If using whole collards, wash thoroughly and remove the whole leaves from the main stem. I find that using a sharp knife makes this easy just to slice along the stem. Tear each leaf into smaller pieces about 2-3 inches in size. You can discard pieces that have stems that are too large.

If using bagged collards, remove them from the bag and wash thoroughly, removing any pieces that have large stems.

Into a large stock pot, heat oil over medium-high heat. Add onion and cook until they have softened. Then add garlic and cook for just a minute or two.

Add water, vinegar, vegetable base, chicken base, and red pepper flakes to the pot and heat until everything has fully mixed. Be sure to taste the broth and add extra salt, red pepper flakes, or vinegar to taste.

Bring everything to a simmer and then add collards. Cook on medium/medium-low heat until collards become tender and just al denté.

Remove from heat and serve, or store in a container with the broth (these actually are better leftover!)