I am here to introduce one of my very favorite side dishes ever.
Yes, I love carbs and will never turn down mashed potatoes, couscous or mac and cheese, but this dish has my heart in a way that few others do.
Cauliflower and radishes are my favorite vegetables anyway, but now that cauliflower seems to be in everything, it makes me like a bit of a bandwagon fan. I hate that.
I LIKED CAULIFLOWER BEFORE IT WAS COOL!
But seriously, I have been known to eat a whole head of cauliflower in one sitting without any sort of dip or dressing, and typing that sentence is making me realize that's actually pretty gross.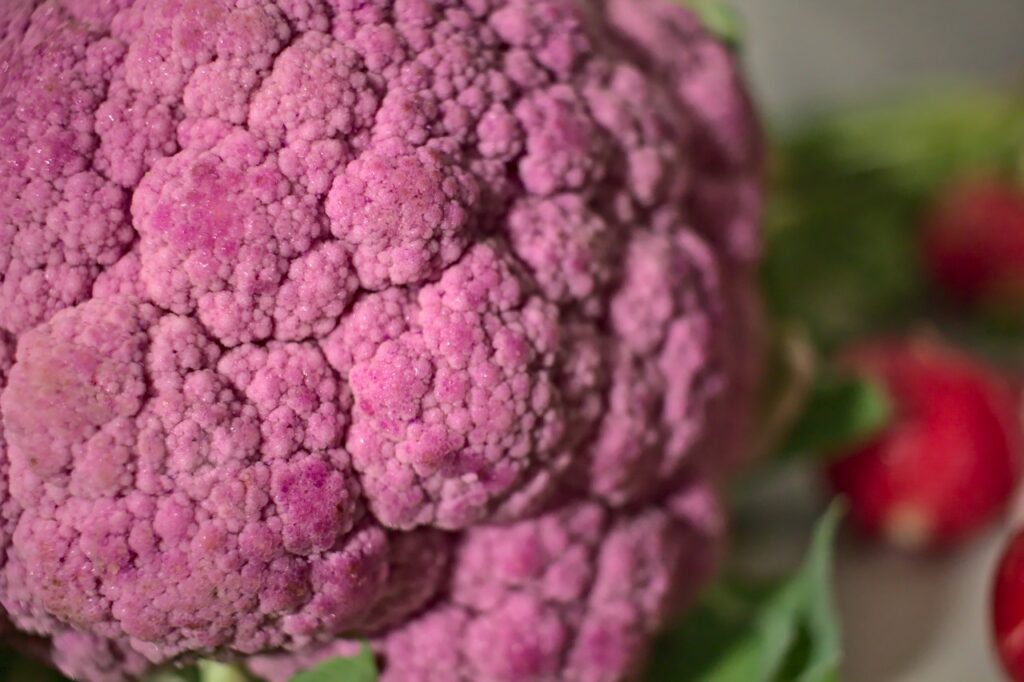 Nevertheless, this is so delicious and beautiful that I find myself putting it on our menus several times a month. Plus the fact that I can have it from fridge to table in under thirty minutes means that I can just keep the ingredients on hand so that I can cook it up with some protein and have a super quick dinner on the table.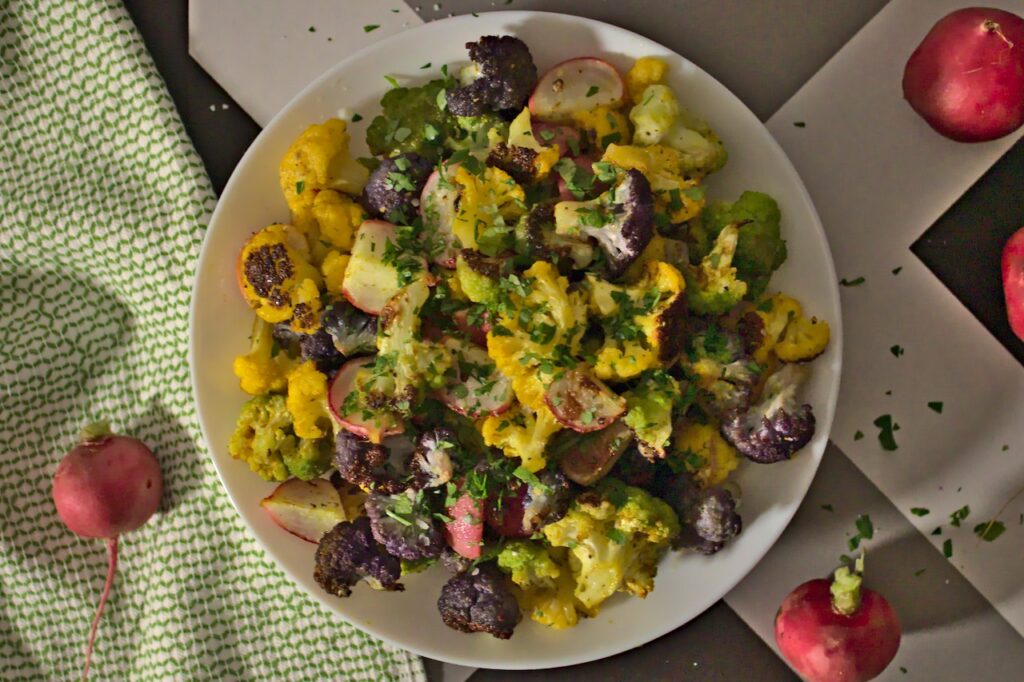 I can even trick Birdie into eating this – "Birdie, do you think that the purple tastes different from the green?" I'll admit that it is a cheap trick, but it works.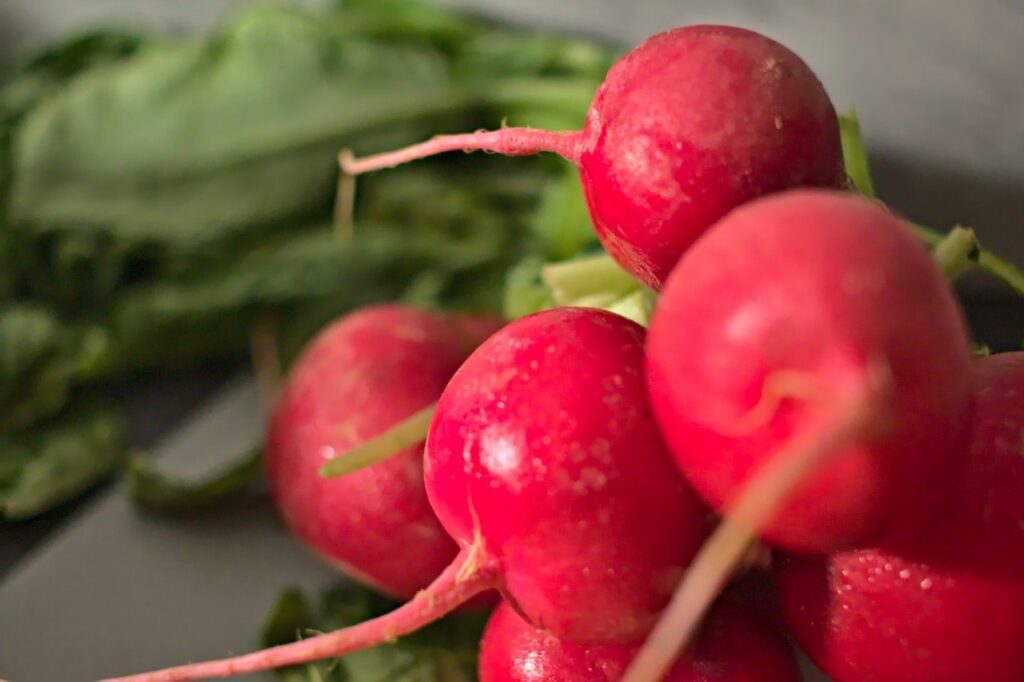 Also, please don't let yourself be turned off by the idea of curry. If you don't regularly use it, please know that it isn't "spicy" in the heat sense. It is completely packed with flavor and I'm convinced that it can save even the most bland dish from a dull, flavorless death.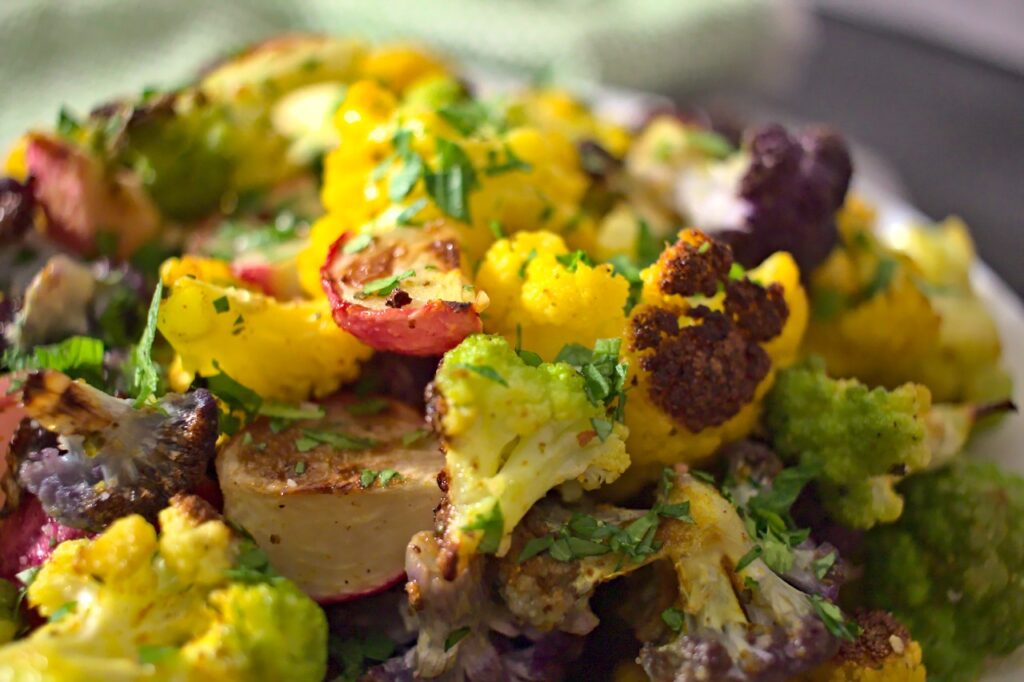 I mean, how pretty is this??
Curry Roasted Rainbow Cauliflower and Radishes
Servings:
6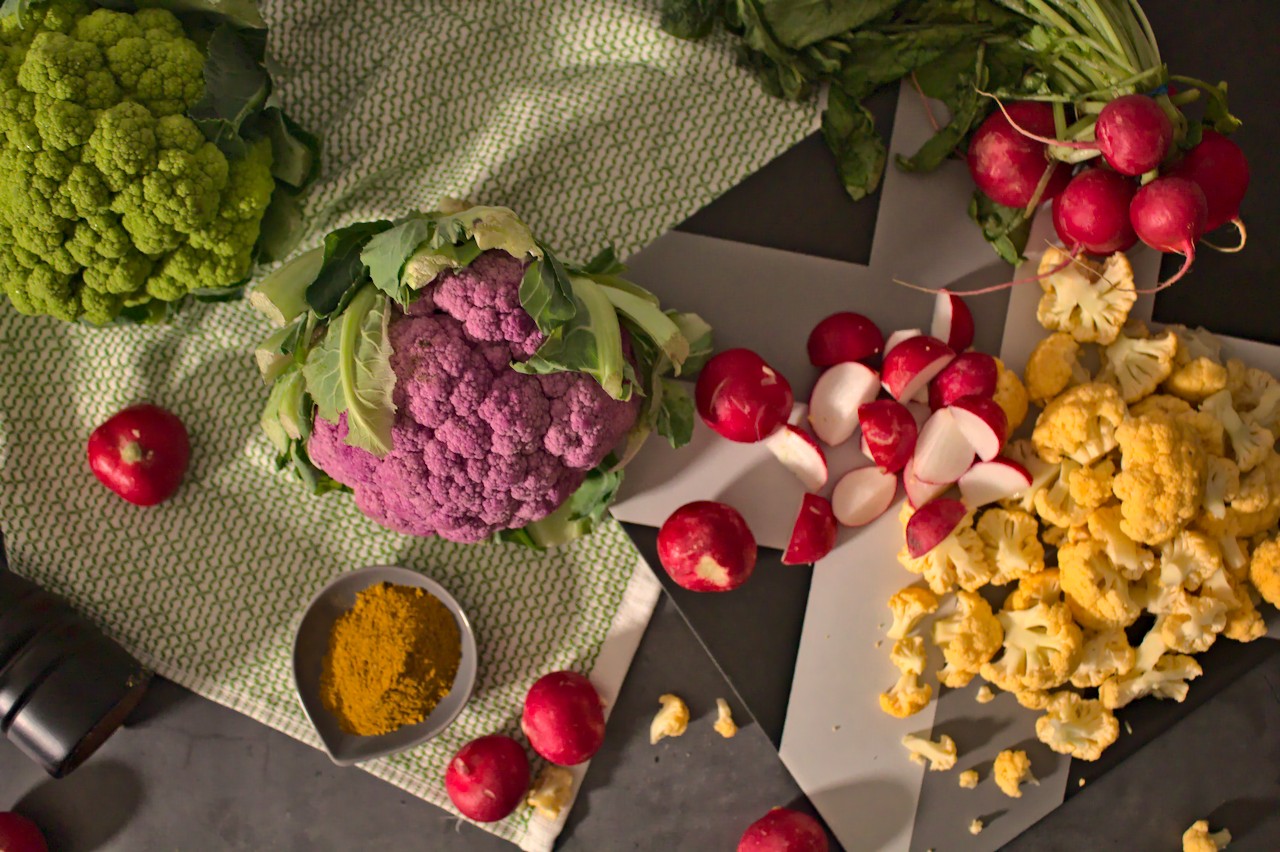 Ingredients
1

head

orange cauliflower

1

head

purple cauliflower

1

head

green cauliflower

12

oz

radishes

3

tbsp

vegetable oil

(enough to coat vegetables without drowning them)

2½

tbsp

curry powder, or to taste

garlic salt and black pepper to taste
Directions
Preheat oven to 425 degrees – using convection option if available

Cut cauliflower into bite-sized florets, and radishes into similarly-sized pieces, which usually means halving or quartering them.

Once all vegetables have been cut, toss them in oil, curry powder, garlic salt and pepper. Don't be afraid to taste it and add more seasoning if needed.

Put veggies onto sheet pans, being careful not to crowd. You want the veggies to roast, not steam.

Place the veggies in the oven for around 15 minutes, or until they begin to soften and develop some beautiful charred spots.

Once you've pulled them out of the oven, taste again. I often find that I end up adding a little bit more salt and pepper because the oven brings out the natural sweetness in the vegetables so much that they can definitely benefit from more salt.