Don't you just hate it when your cheese drawer is filled with little bits of cheeses, just haunting you every time you open the fridge like orphaned ghosts of charcuterie boards past?
No? Just us? Well, as self-proclaimed cheese enthusiasts, we are apt to splurge on some really beautiful cheeses, but because we hate food waste, we can't bring ourselves to throw away the little bits of cheese leftover from our cheeseboards at the end of the evening. This eventually culminates in a total freakout whereupon I declare that "we have got to do something about all of this damn leftover cheese because I cannot fit anything else in here"!
My solution? Risotto.
I just grate all of that cheese (with the grating attachment on my mixer. I'm a cheapskate, not a pilgrim!) and toss it in!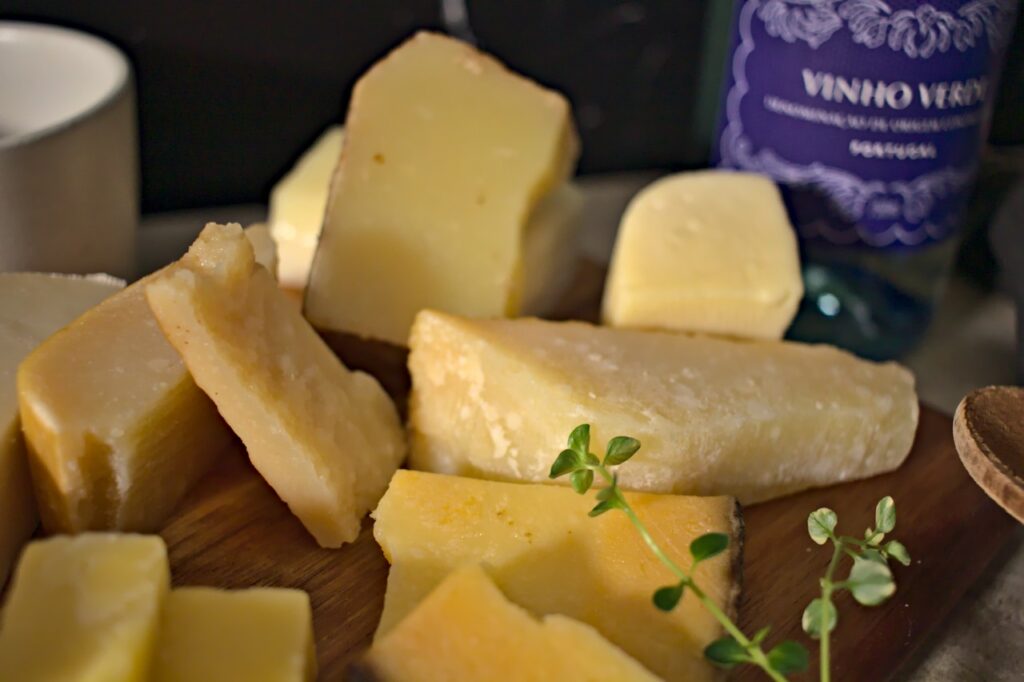 A lot of people are totally intimidated by risotto, but they totally shouldn't be! I actually find it to be more forgiving than regular rice for me as an impatient person who basically refuses to measure anything. I know, it sounds counterintuitive.
Basically you just need to have a pot of simmering liquid that you just keep adding as you keep stirring your risotto. Sometimes I prepare too little stock and end up having to add plain old tap water at the end. It always turns out just fine because I just keep stirring and tasting.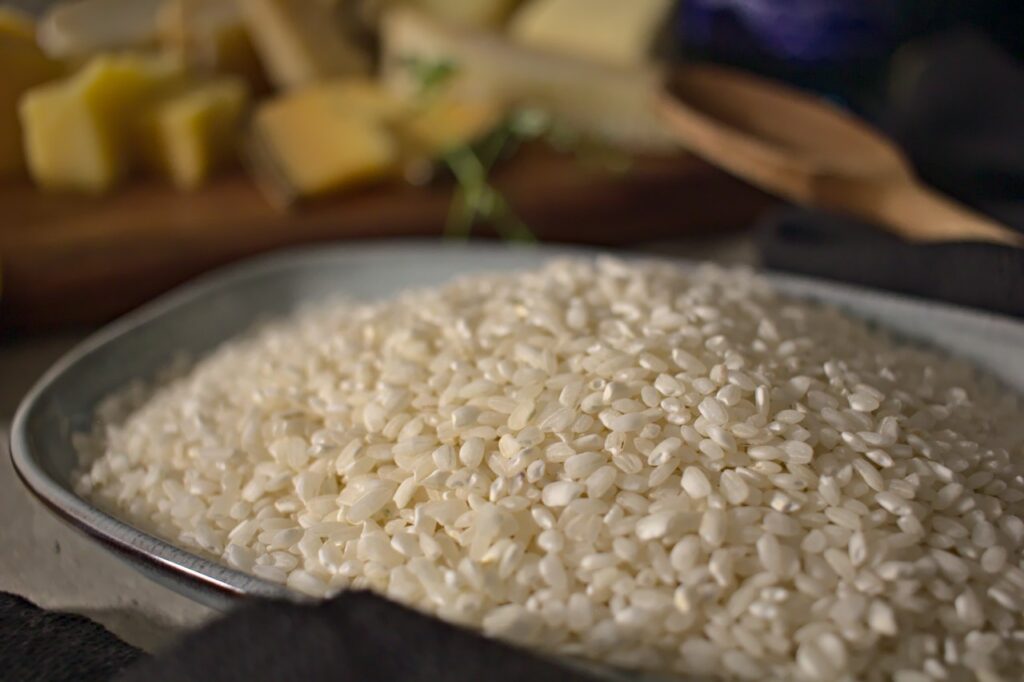 You can't rush this process (This advice is coming from the person who can't be trusted to melt cheese for fondue or to temper chocolate. Ever.), but I feel like there's always something to do, so it doesn't seem like an arduous process. You know that you need to add more liquid when you can pull your spoon down the center of the pan and the risotto stays parted like the Red Sea. You know the risotto is done when the rice is al dente, but not crunchy, and creamy.
On that note, a lot of people end up adding a lot of heavy cream, and more often than not, I don't add any. It definitely makes it luxurious, but I just feel like I can usually get a nice creaminess from just releasing the starches as I stir, and of course from adding the cheese. However, if you want to add cream, do it. I definitely won't be mad at it.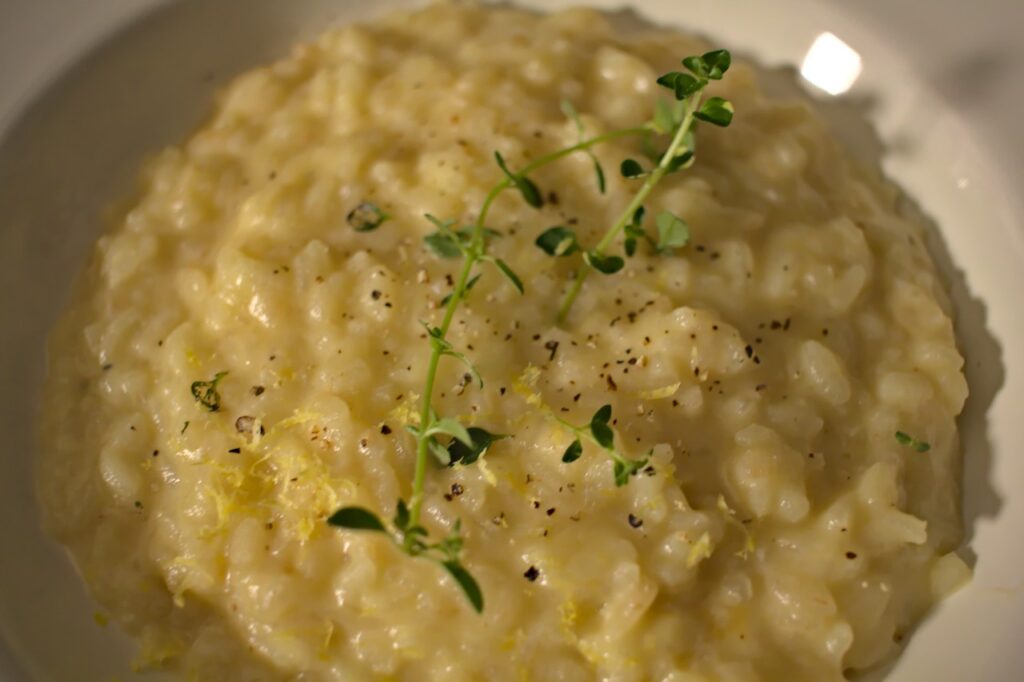 "Empty the Cheese Drawer" Risotto
Servings:
4
people as an entrée, or 8 as a side dish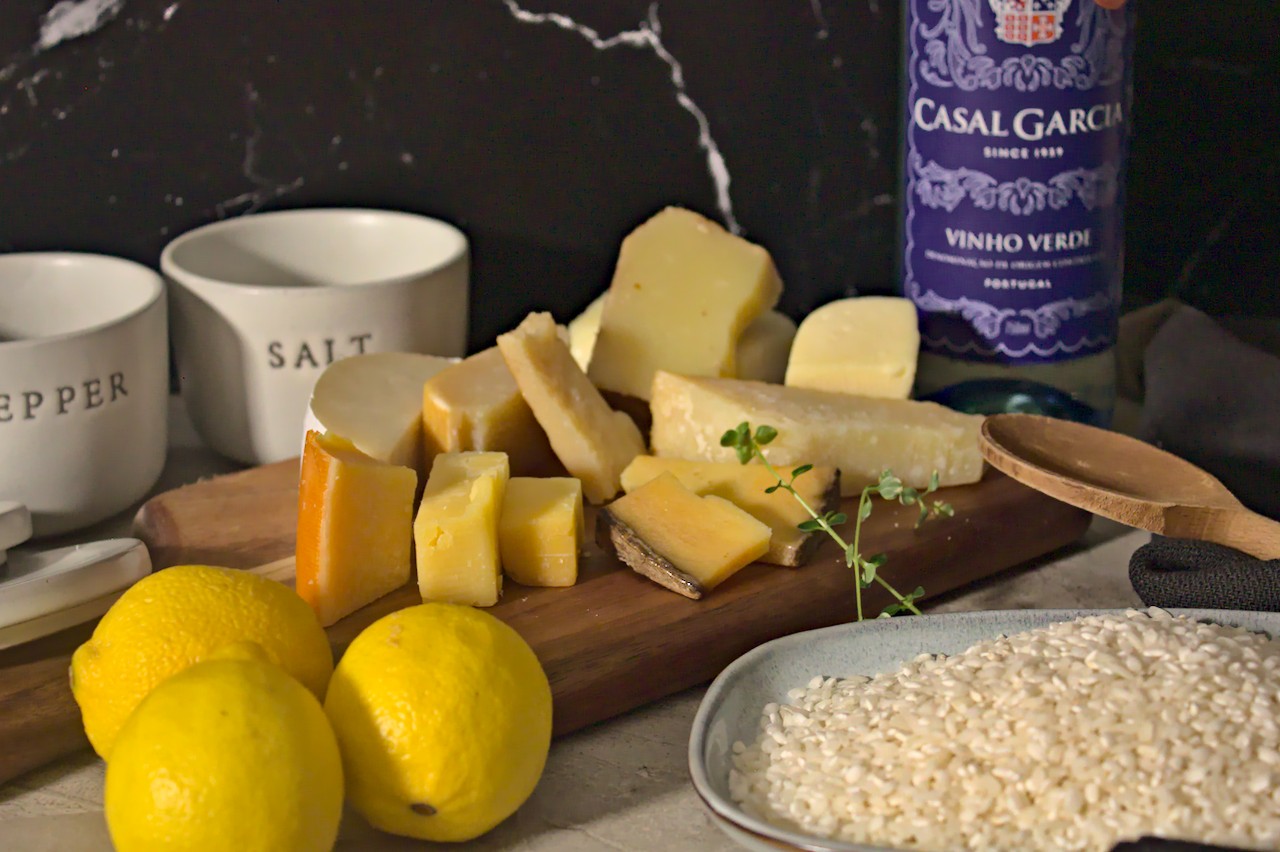 Ingredients
4

cups

chicken or vegetable broth

½

stick

butter

1

small onion, finely diced

⅓

cup

dry white wine

1 ¼

cups

arborio rice

3

cups

shredded cheese

(I like including something with a bite like pecorino)

salt and pepper, to taste

fresh lemon juice, to taste

lemon zest, to taste

shredded cheese for garnish
Directions
Simmer stock in a small pot over medium heat.

Set a high-walled sautée pan over medium heat. Melt butter and sautée onions until they are soft and translucent.

Pour rice in and sautée until the rice starts to sound like glass beads. If the rice starts to turn a little tan, that's ok, but move on to the next step to avoid burning. Do not add salt or pepper until the end.

Pour wine in to deglaze the pan and stir until all of the wine has absorbed into the rice.

Add about 6 ounces of broth to the rice with a ladle and stir until the liquid has absorbed to the point where you can part the risotto down the center with your spoon, and it stays parted.

Add 4 ounces of broth to the rice and stir until liquid has been absorbed and you can part the risotto. Repeat this process about three more times. At this point, you need to start tasting the risotto. If it is crunchy in the middle or a bit too al dente, add more liquid. As it starts to get closer to the texture you desire, add less and less liquid.

Once it has reached your desired texture, remove from heat and stir in your cheese until it is fully combined and melted.

Taste your risotto. If it seems too salty or one-dimensional, add a squeeze of lemon or some lemon zest. You could also stir in a little bit of wine instead. At this time, also stir in any salt or pepper you might want.

Plate your risotto and finish with fresh black pepper, cheese and lemon zest.