I am a firm believer that every person should have a meal in his or her back pocket that is the one that is reserved for company. Here is what I consider to be the criteria:
Ingredients must be simple and generally well-liked by the majority of people.
Ingredients should be something that you keep on hand in the event that someone pops by with very little notice. We all know that your time is better spent panic-shoving everything into closets rather than grocery shopping. If you're the kind of person who has a pristine house all of the time, you are likely at the wrong blog.
The recipe should be so easy that it is barely a recipe at all, and you can make it while you're talking with your guests who are most definitely gathered in your kitchen. I don't care if you have a gigantic double-island kitchen in the 'burbs or a barely-a-kitchen in the city – people always gather in the kitchen. Change my mind.
This recipe, friends, is that recipe.
This could not be more simple, but I think that's kind of the beauty in it. It isn't drowning in sauce, and the ingredients just get to speak for themselves.
Pasta, shrimp, broccoli, garlic, olive oil, butter, red pepper flakes… and the secret ingredient that plays a recurrent role in our kitchen – anchovies.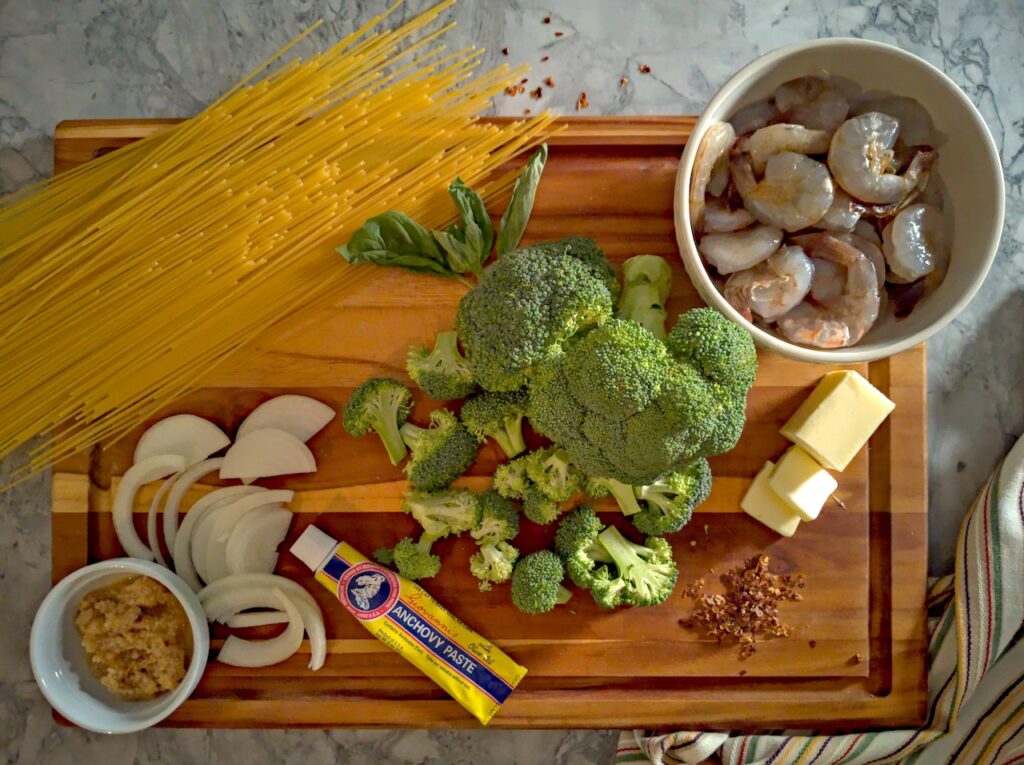 Before you gag and say that you hate anchovies, keep in mind that there are only enough in here to add some saltiness and umami. And if you're some sort of freak supertaster who claims that you can still taste fishiness (FALSE) it would be covered up by the shrimp anyway. I suppose if you're still super opposed to the idea of anchovies, you could use white miso paste? I haven't tried it because anchovies work. We actually oftentimes keep anchovy paste around so that we don't have to open a whole can of fillets. This thing only uses like 4-5 fillets anyway.
This whole thing takes maybe thirty minutes to toss together. Maybe a little longer if you're using frozen shrimp, maybe a little less if you're using pre-chopped or frozen broccoli. Your guests won't mind anyway because of your sparkling conversation skills, but mostly because you're keeping their drinks filled. Definitely because you're keeping their drinks filled.
When it is all pulled together, it looks really pretty and like you actually put in some effort. But I really think the effort level on this is about on par with Hamburger Helper.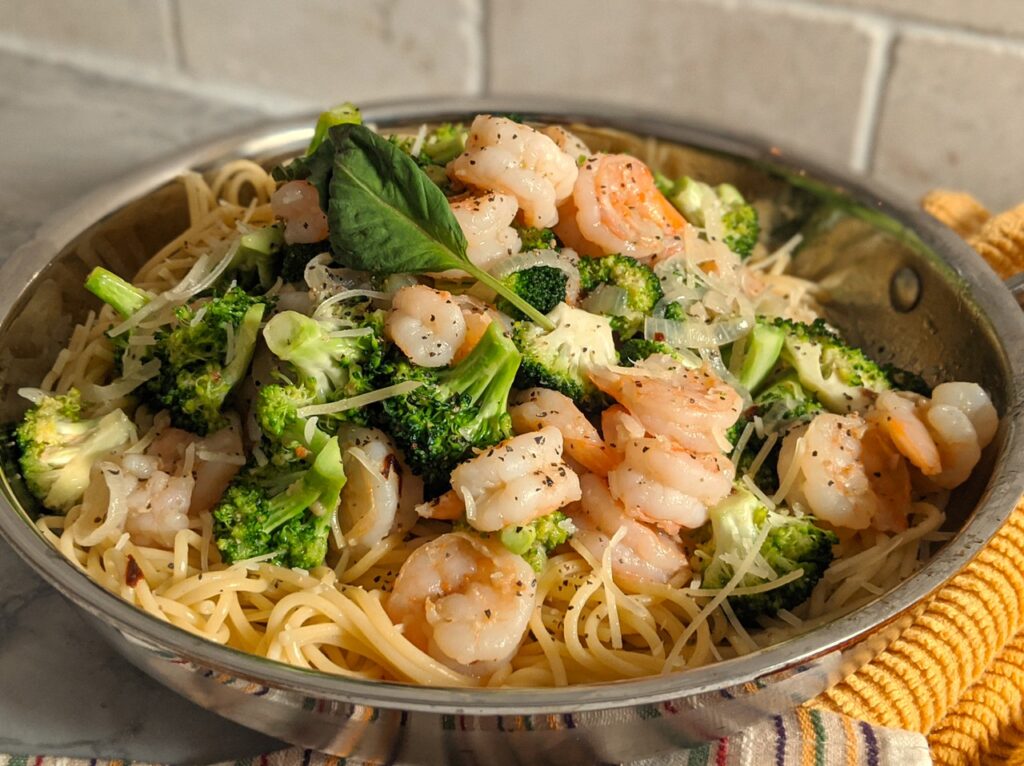 As a bonus, the "sauce" for this recipe can be used on a ton of other stuff. I often use it to liven up sauteed kale, fish, or even roasted potatoes. Definitely keep it in your back pocket.
Super Easy Shrimp Pasta
Adapted from Giada De Laurentiis "Farfalle with Broccoli"
Servings:
6
people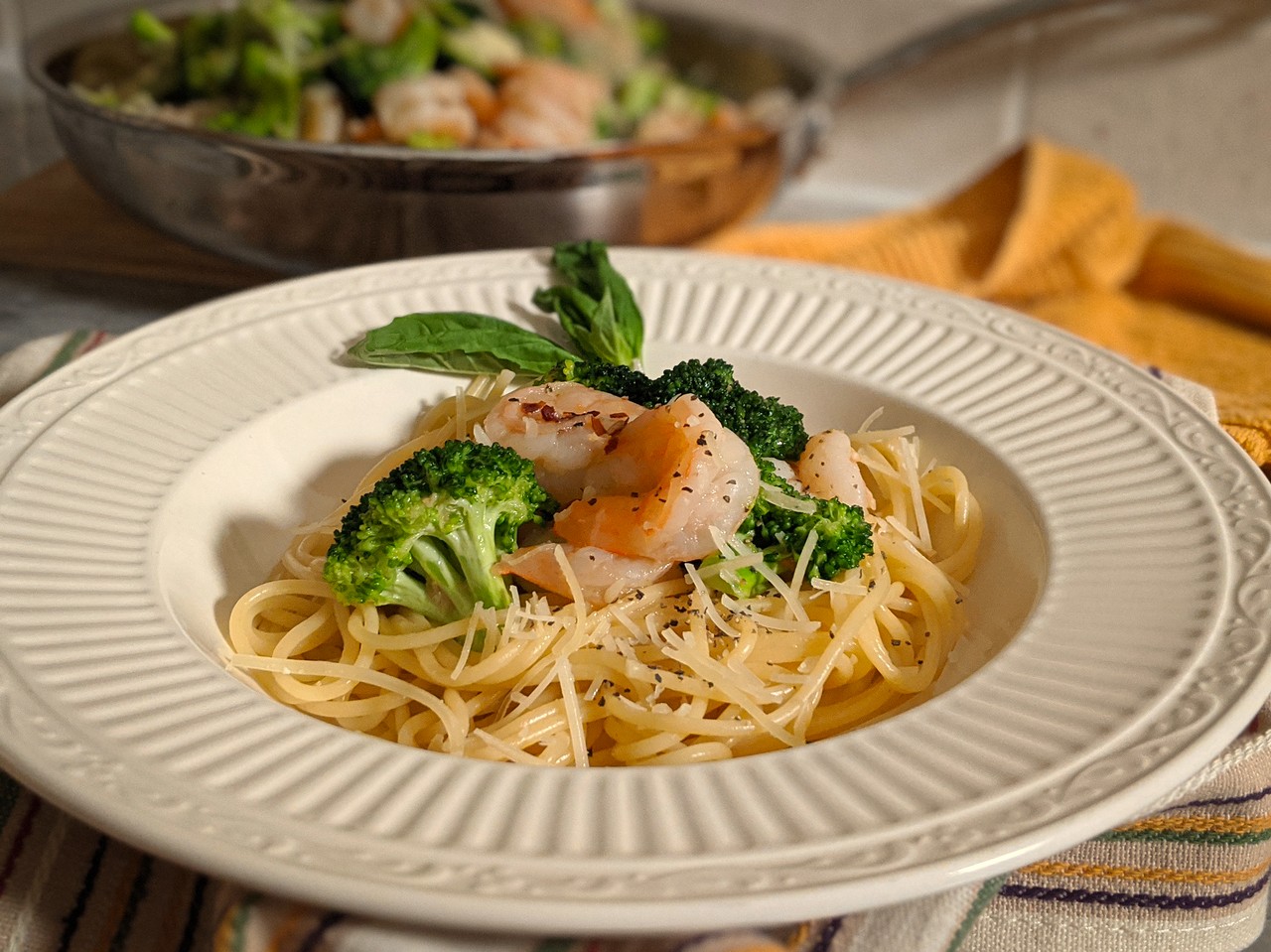 Ingredients
16

oz

pasta of your choice

(spaghetti or campanelle work great)

1

lb

shrimp

(peeled and deveined)

4

cups

chopped broccoli

(asparagus or kale work too)

⅓

cup

olive oil

½

stick

butter

½

onion

(sliced thinly)

5

anchovy fillets

(diced)

¼

tsp

red pepper flakes

(or more, to taste)

salt and pepper

(to taste)

fresh parmesan or pecorino

(to taste)
Directions
Bring a large pot of salted water to boil and cook pasta, according to package directions.

When pasta has approximately 5-6 minutes to cook, add your broccoli (or whatever vegetable you've chosen) to the water and let the pasta finish cooking.

Drain the pasta and vegetables, reserving about a cup of pasta water.

Heat olive oil and butter in a large skillet over medium heat. Once butter has melted, add the sliced onions and sautée until soft.

Add the anchovy fillets and stir them until they melt and incorporate into the butter and oil mixture.

Add garlic and red pepper flakes and cook for about one minute. Don't overcook and burn the garlic or it will taste bitter.

Add shrimp to pan, and cook them on each side until they are JUST opaque. Remember that when it comes to shrimp, a "C" shaped shrimp is cooked. An "O" shaped shrimp is overdone. "C" is for Cooked. "O" is for Overdone. It takes a LOT less time to cook shrimp than people think. We're talking a couple of minutes. You want your shrimp to have some snap when you bite into them, not have the texture of a deflated bike tire.

Once the shrimp are done, turn off the heat, and combine shrimp, pasta and veggies. Stir in a bit of pasta water to create enough "sauce" to cover everything. It usually takes about half a cup, sometimes more, sometimes less. I think a lot depends on the shape of pasta and veggies used. Just add a bit at a time. You really can't mess this up. Salt and pepper to taste.

When everything has combined, transfer to a serving bowl and just annihilate it with grated parmesan cheese. Nobody has ever complained about too much parm. And if they do, you may ask them to promptly leave your home.