Annie and I have a saying – we don't drink our calories unless there's booze in it (we never said we were role models). So when it comes to cocktails, we're going to look for ways to avoid full octane ingredients, especially juices. This skinny version of a paloma has been one of our summery standbys. And I don't even like tequila!
I'll say it again: I'm not a huge tequila fan. I mean, it's good and all, but you'll find me grabbing scotch or gin long before I reach for tequila. Add that to the fact that I also don't really love grapefruit and you're probably thinking "so why in the hell are you peddling this drink, my guy?".
Because it's damn good. That's why.
We first started making this drink a couple summers ago and it has spread like wildfire through my family as a summer favorite. So much so that during our annual family beach trip where I typically play the role of bartender, this pushed my piña coladas out of the top spot of most requested drink. Not an easy feat to do, mind you; I pride myself on making good, not crappy piña coladas and they've always been a hit.
The trick to this skinny paloma is in one key ingredient: Ocean Spray diet grapefruit juice, which is only 5 calories per serving. Cutting out all of those calories from diesel grapefruit juice is a game changer. Now you're really only counting calories from the tequila, so call it roughly 120 calories per serving. Notbad.jpg.
We had to experiment a little to get this right. The paloma recipes we had seen recommended club soda and simple syrup. That was okay, but it just needed a little more. It's no secret in this house that I am a Fresca fiend (yes, I realize this also contradicts my stance on not liking grapefruit), so we always have plenty sitting around. This turned out being exactly it needed; we get the sweetness and effervescence that we needed but also that little boost for the grapefruit.
Enjoy!
Unrelated: is there some sort of global shortage of Fresca during the COVID pandemic? It's been nearly impossible to regularly find in grocery stores. And when we do find it, it's always in 2 liter bottles, never in cans. I mean, what the hell is the world coming to?!
Skinny Palomas
Servings:
2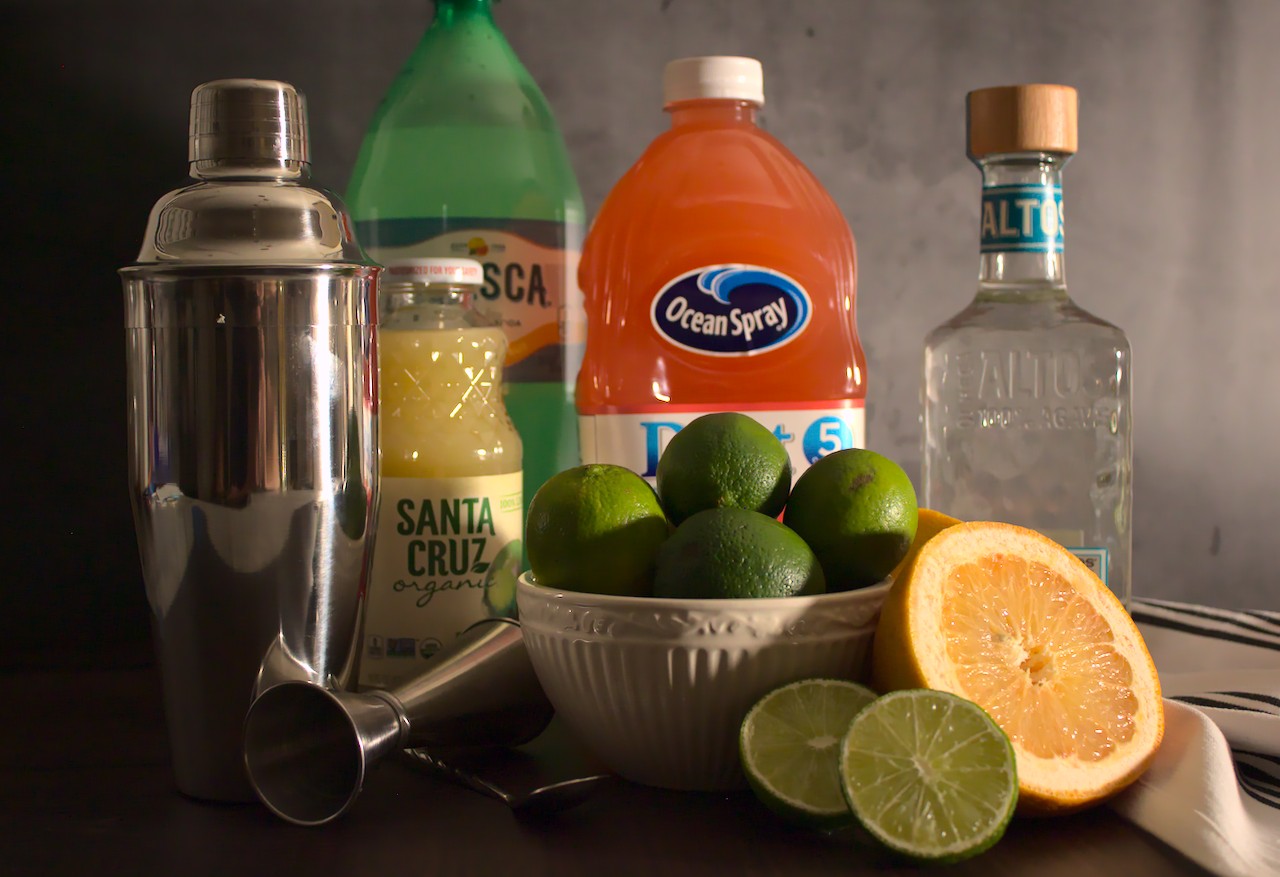 Ingredients
4

oz

Tequila

1

oz

Lime Juice

4

oz

Diet Grapefruit Juice

4

oz

Fresca
Directions
Combine tequila, lime juice, and grapefruit juice into a cocktail shaker filled with ice

Stir until combined and chilled

Strain into chilled glasses or over ice

Top off each glass with Fresca

Garnish with a lime wheel