This isn't the overly sweet, frozen abomination that most people think of when they hear the word 'daiquiri'. This tart and refreshing cocktail started out as a total experiment and turned out being our new summer favorite.
Every once in a while, my Mom and Dad provide us the blessing that is a kid-free weekend. Everybody wins in this scenario: Mom and Dad get some grandkid time, Birdie gets to experience the elusive "no rules grandparents house", and Annie and I get a much needed reprieve from the constant "why?" questioning of a precocious four year old.
The weather was particularly nice and we were both stir-crazy from being cooped up in the house for so long (thanks COVID!), so we decided to take a drive around town and just see what we got into. Well, we did whatever anyone else would do in this situation: we went to one of our favorite furniture stores, Nadeau. Watch out, Atlanta. We've got two kid-free parents out here wildin'.
Next door is specialty liquor store H&F Bottle Shop. Now, typically, we just hit up our local liquor store for our libation needs, but since it was right there, we figured what the hell, let's just browse around. That's when we found Chinola passion fruit liqueur. I must say, it piqued our interest. We had talked about how much we liked passion fruit literally the previous day.
On a lark, we bought it to see if we could put a spin on a Hemingway daiquiri. A delicious combination of rum, grapefruit juice, lime juice, and maraschino liqueur, a Hemingway daiquiri is a drink that we really don't make enough. So for this experiment we replaced the grapefruit juice and maraschino liqueur with passion fruit liqueur and simple syrup, and boy were we pleased with the outcome. Tart with a little bit of sweetness, this ended up being, how do I put this… f*&#!king delicious.
But don't take my word for it (cue Reading Rainbow ba-dum-dum).
Passion Fruit Daiquiris
Servings:
2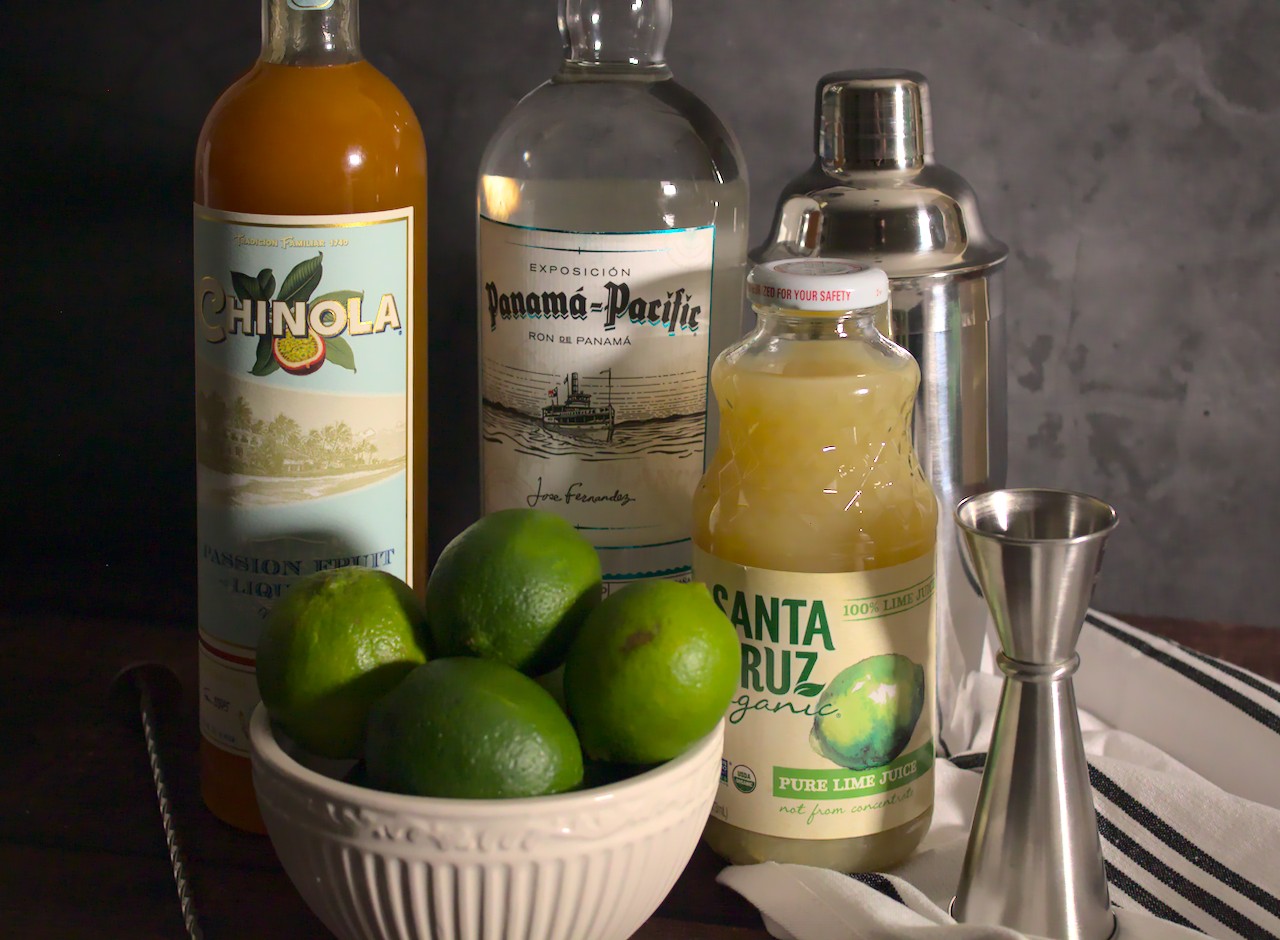 Ingredients
4

oz

White Rum

2

oz

Passion Fruit Liqueur

2

oz

Lime Juice

2

oz

No-Cal Simple Syrup

(3-4 Tbsp Splenda mixed into 1c water)
Directions
Add ingredients to a cocktail shaker filled with ice

Shake until combined and chilled

Strain into two coupe cocktail glasses