Guess what, everyone? It's officially brown liquor season! Grab your favorite whiskey, sit your ass down, and enjoy this cool fall weather. Watch some college football, dive head first into a new Netflix series, go sit outside for some fresh air, or whatever your cup of tea might be. But I can tell you what cocktail I'm going to this time of year: Manhattans.
But this isn't your everyday Manhattan. This is a little thing Annie and I have named a 'Muskegon', a Michigan inspired take on a traditional Manhattan made with Michigan tart cherry liqueur. And it's outrageously good.
I love a Manhattan. It might be one of my favorite cocktails: a delightful blend of whiskey (bourbon, rye, or whatever your poison might be), vermouth, bitters, and the slight sweetness of maraschino cherries.
My recipe of choice is typically a Perfect Manhattan, which is just a fancy way to say that you use equal parts sweet and dry vermouth, rather than only using sweet vermouth. Oddly enough, I find it to be, well, perfect. So why mess with success?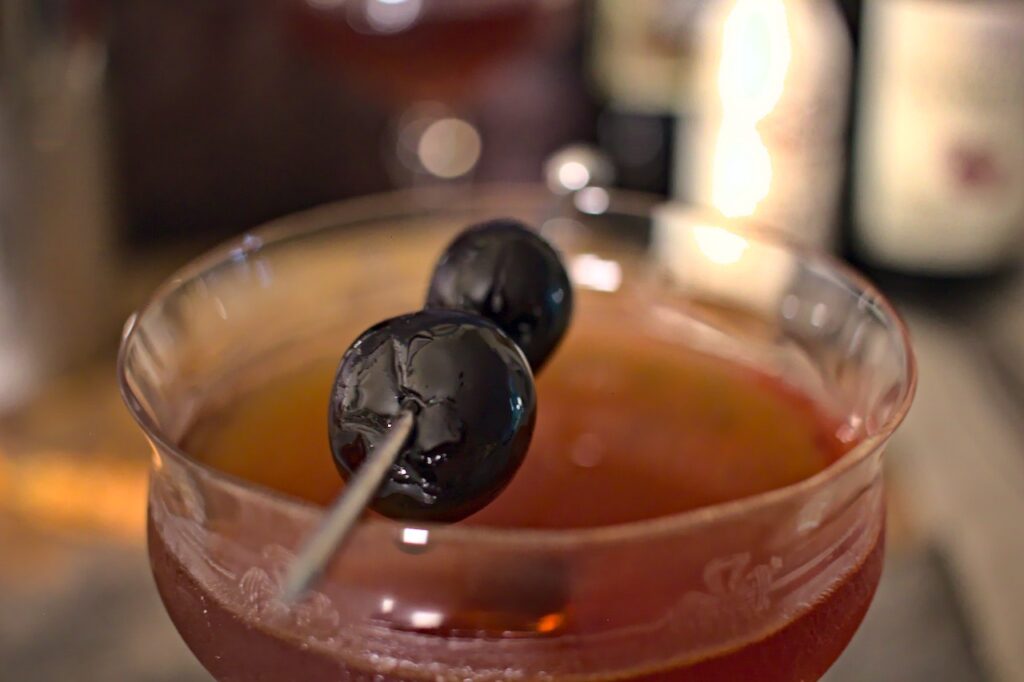 Annie's entire family are Michiganders, generally hailing from a cozy little beach town right on lake Michigan. It's usually been a tradition that we pack up the car and drive up there around the Fourth of July to visit family, enjoy the cool Michigan summer nights, and watch fireworks over the lake.
I've always loved these trips up there, Michigan is a beautiful place in the summer months. But you won't catch my Southern ass anywhere near there if it's close to snow season. I've seen pictures of that dismal gray winterscape. I'll nope right the hell out of that in a heartbeat.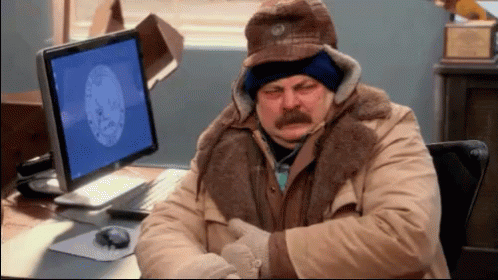 One of the best things about Michigan summers, though, is absolutely the produce. Sure the blueberries are outrageous but there are few things I love more than fresh Michigan cherries. I could probably eat my weight in them.
I've gotten into the habit lately of wandering around our liquor store whenever I'm restocking the bar just to see if I stumble across anything new that piques my interest. Let's just say that when I saw something called "Michigan tart cherry liqueur" I was definitely interested. Insta-buy … I'd figure out the mechanics later.
I won't lie: by itself, this stuff tasted a bit like cherry flavored Robitussin. It was a little off-putting, unlike the passion fruit liqueur. But there was a hint of something really special in there. Maybe we could figure out a way to work this into a cocktail? What about a Manhattan? That already has cherries in it, so it was worth a shot.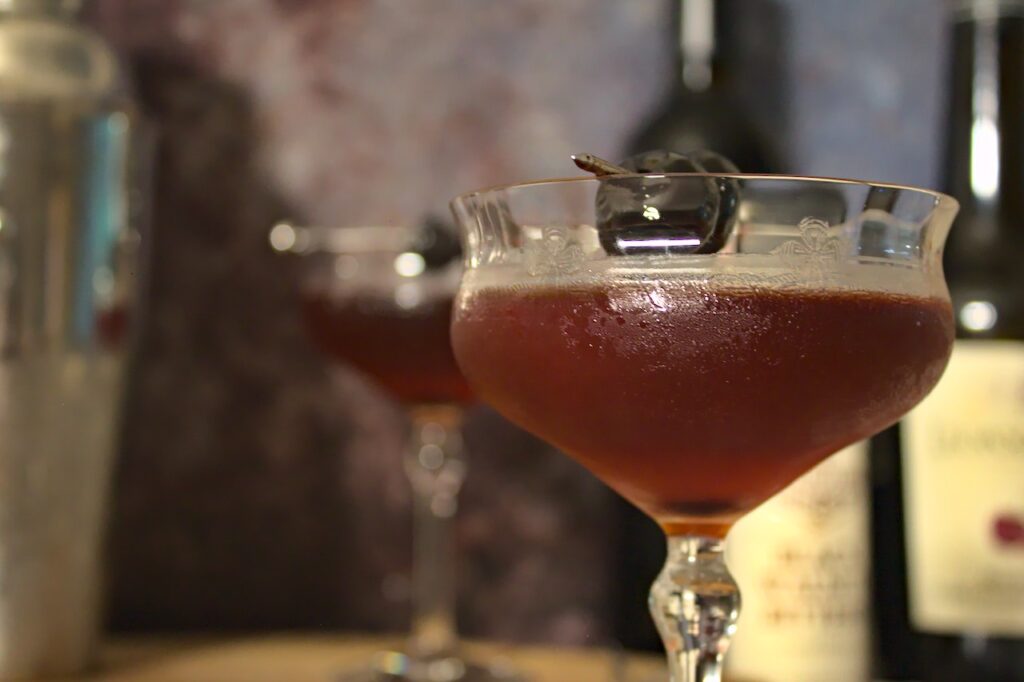 It worked out better than I expected. Not too sweet and still having all of the endearing qualities of a traditional Manhattan, this delicious concoction of yummy cherry goodness is a match made in heaven Michigan!
Pro tip: don't just go buying your everyday, bright red, grocery store maraschino cherries. Spend the extra money and get real Luxardo maraschino cherries. Yes, they are spendy, but they are nothing short of spectacular and you won't regret it.
Muskegons
Manhattans with a Michigan Inspired Twist
Servings:
2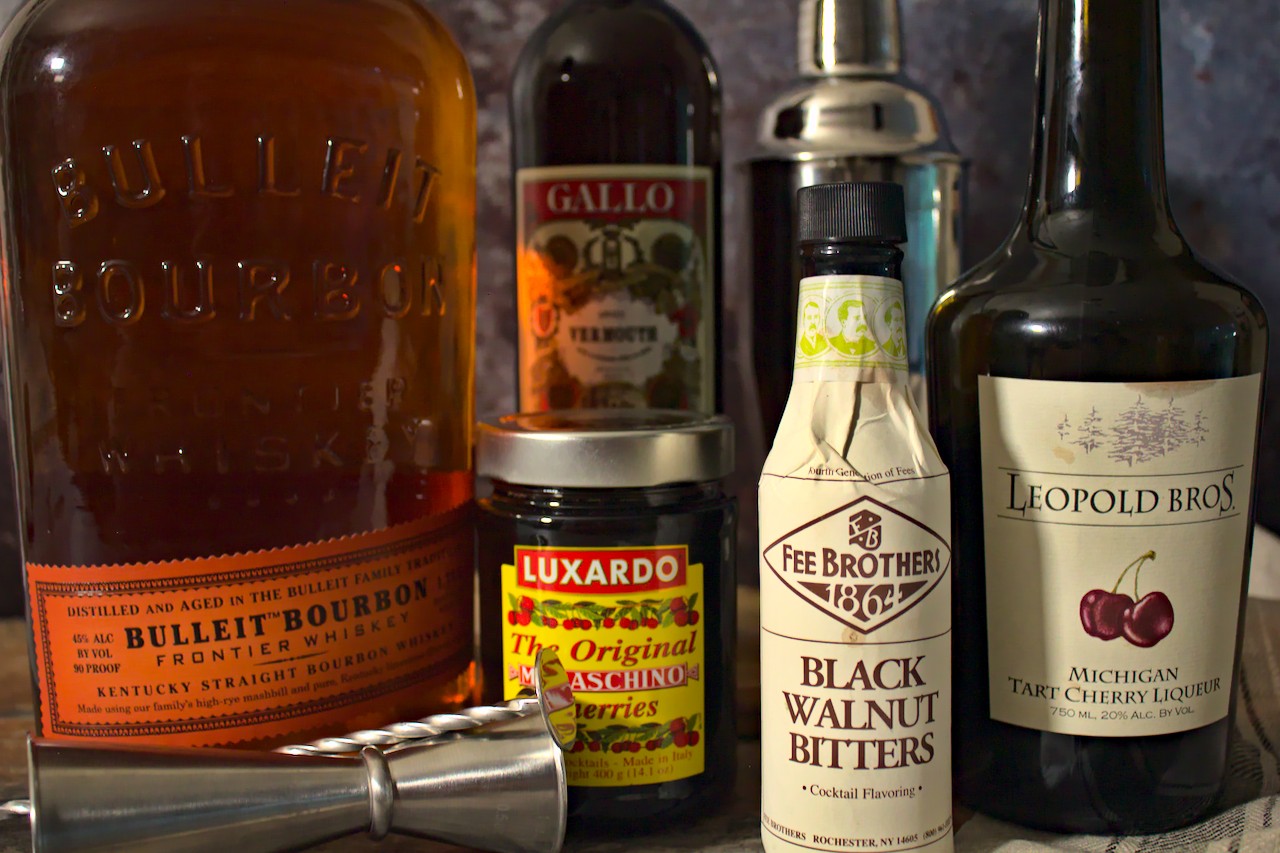 Ingredients
4

oz

bourbon or rye whiskey

1

oz

Leopold Bros Michigan tart cherry liqueur

1

oz

sweet vermouth

1

dash

black walnut bitters

(a little goes a long way!)

2

Luxardo maraschino cherries, for garnish
Directions
Into a cocktail mixer filled with ice, add bourbon, cherry liqueur, and vermouth. Using a cocktail spoon, gently stir to combine until just chilled.

Pour mixture into two coupe glasses.

Add two very small dashes (1 or 2 drops) of black walnut bitters to each glass.