Let's be honest, meatloaf isn't exactly some high brow cuisine. It's a dish meant to stretch a little bit of protein a long way for not that much money. I mean, you put ketchup on it for Pete's sake.
So why in the hell do I love it so much? Maybe it's the nostalgia, maybe it's the healthy dose of seasoning I use, but I love when meatloaf season shows up. Served fresh with mashed potatoes or leftover as a sandwich, I don't care, it's fantastic.
But I'm not talking about some exotic protein, bacon wrapped, artisanal meatloaf here. This is just your everyday at-home meatloaf. And I absolutely love it.
I can't exactly say that I was always a meatloaf fan. As a kid, I grew pretty tired of it. Looking back on it now though, it wasn't because it was bad (it was actually really good). It was because I was being a picky asshole kid.
Fast-forward to today where I look forward to the time of year when meatloaf enters our weekly dinner menus. Served with some of Annie's mashed potatoes and some fresh green beans? Yes, please.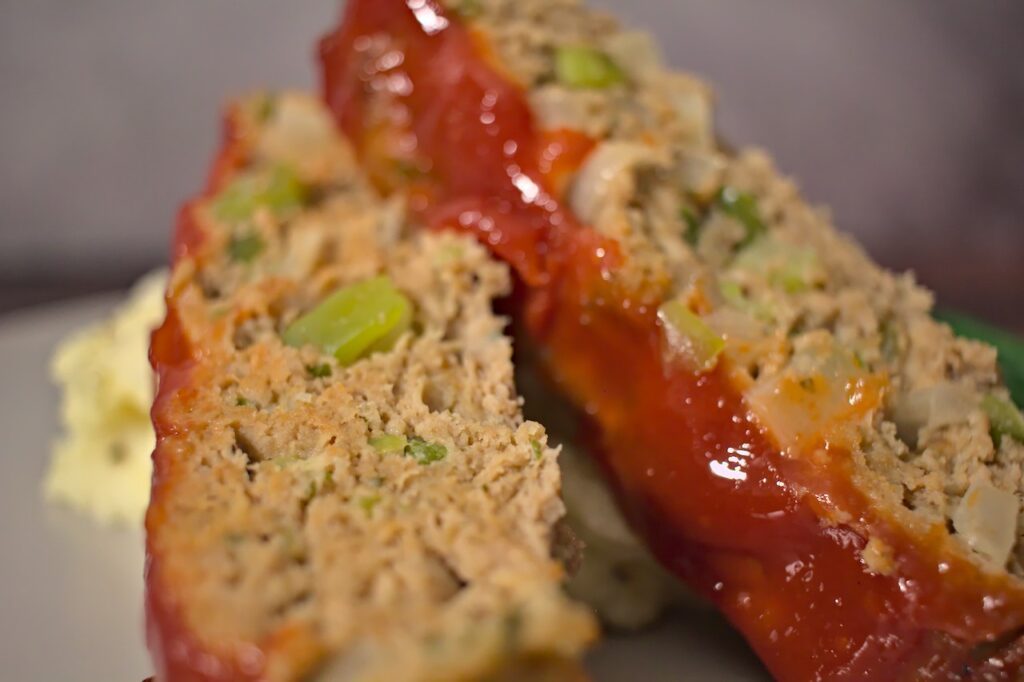 Basic AF. That's what this meatloaf is. But not pumpkin spice latte basic. It's just, I dunno, run-of-the-mill meatloaf. But that doesn't mean it has to suck. It all comes down to the seasoning. Well that and, yet again, cooking to temp, not to time.
Usually Annie and I don't follow any explicit recipe, we just sort of wing it. That having been said, it's a pretty straightfoward formula: a pound of ground turkey (or beef), breadcrumbs, and some seasoning. Admittedly, I have a hard time gauging the seasoning I need for raw ground meat. It's not like I can lick the spoon to find out. Well, I could, but, you know, I kinda like not getting salmonella.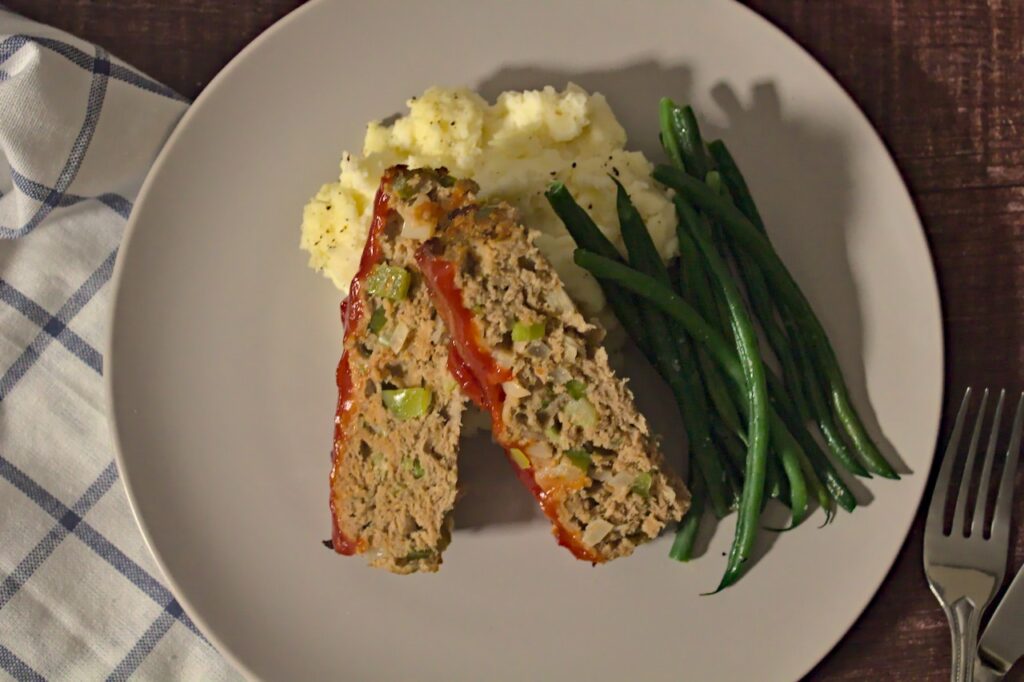 I've come to find out that there's a pretty big debate when it comes to meatloaf and any vegetables that might be added. I'll tell you this: I'll never not add diced onions. Annie and I put onions in pretty much any ground turkey we cook. It's the flavor cornerstone.
When it comes to any other vegetables, I usually don't go crazy and just leave it to the diced onions. However, if Annie and I are trying empty the refrigerator of vegetables that we don't want to throw away, we've been known to toss a little celery or bell pepper in there.
Be careful though! A heavy hand with the produce and you'll end up with meatloaf that crumbles rather than slices cleanly. How are you going to make meatloaf sandwiches with crumbly meatloaf?! I'll submit that you cannot.
Serve this little ketchup-topped slice of nostalgia with some mashed potatoes and you've got yourself a fantastic, easy-to-make dinner that arguably might make for even better leftovers #MeatloafSandwichSquad.
Basic AF Turkey Meatloaf
Servings:
6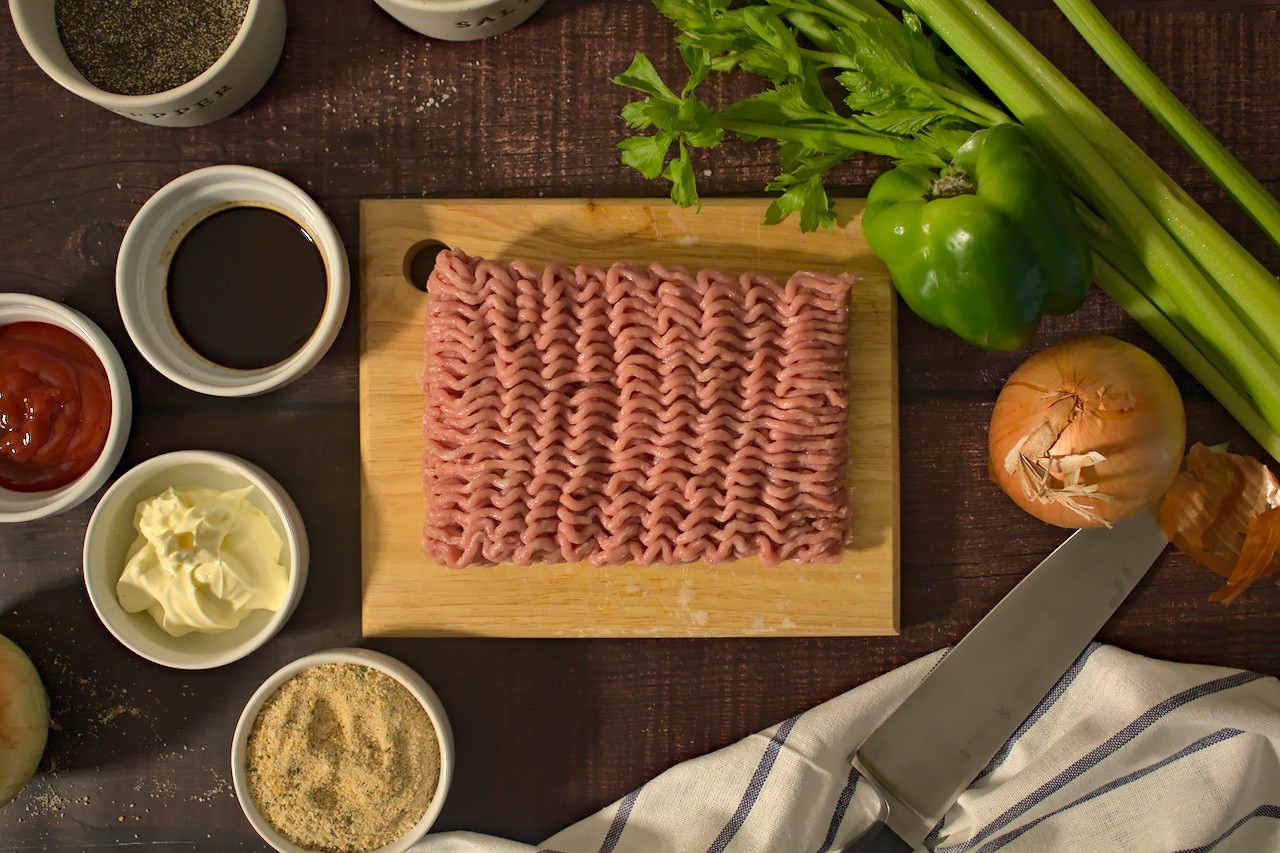 Ingredients
1

lb

ground turkey

1

tsp

Worcestershire sauce

¼

cup

mayonnaise

(it's ok to be a little generous)

½

cup

seasoned breadcrumbs

½

medium onion, finely diced

¼

cup

bell pepper, finely diced

(optional)

¼

cup

celery, finely diced

(optional)

1

tbsp

salt

1

tsp

pepper

¼

cup

ketchup

(enough to cover the top of the meatloaf)

1

tbsp

ketchup

(to mix with ground turkey)
Directions
Preheat oven to 350 degrees

In a large bowl, add ground turkey, Worcestershire sauce, onion, mayonnaise, breadcrumbs, salt, pepper, 1 tbsp ketchup, and, if choosing to do so, bell pepper and celery.

With your hand, mix just enough to evenly incorporate all the ingredients. Do not overmix or the end result will be tough.

Press mixture into a 9×5 inch loaf pan and place into the oven. Cook for approximately 30 minutes or until the internal temperature has reached about 150 degrees.

Remove from the oven and cover the top of the meatloaf with an even layer of ketchup. Place back into the oven and cook for another 15 minutes or so, until the internal temperature has reached 165 degrees.

Remove, let rest, then slice and serve with your choice of sides.