If you were to ask Annie what my eating habits were like at home, she'd probably describe it as if the Cookie Monster one day decided that cookies were just not that interesting to him anymore because he's discovered crackers, potato chips, and other crunchy, salty snacks. And you know what? She'd be right.
I'm not ashamed. I love salty snacks. And right up at the top of that list? You guessed it. Pretzels.
Now, I'm no snack food snob, but these aren't your everyday, store brand mini pretzels. These are are warm, chewy, freshly baked soft pretzels. They're delicious in their own right, but add in some beer cheese dip?! You son of a bitch, I'm in.
Just about six years ago, Annie took a two week trip to Europe, visiting the UK and Germany. Neither of us had ever been to Germany before, but considering how Annie's family is just a few generations descended from direct German immigrants, it felt like an appropriate destination. It didn't exactly hurt that Oktoberfest was happening in Munich at the same time.
If there's one thing I got from that Bavarian excursion, besides the hellacious hangover, was, as I still describe it today, one of the best breakfasts I've ever had. A true breakfast of champions consisting of beer, weisswurst, sauerkraut, mustard, and (shocker) Bavarian soft pretzels.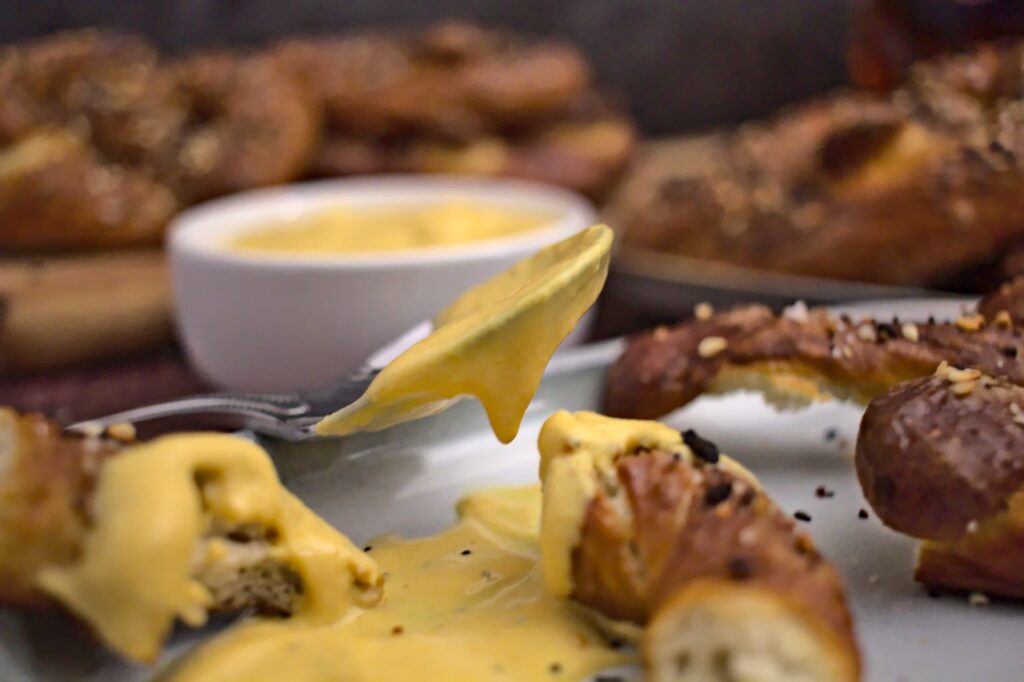 I have never attempted to make my own pretzels before, but let's be honest, 2020 is the year for "screw it, I'll give it a try". My thinking was this: I already have a go-to pizza dough recipe, I wonder if I can tweak that a bit to get the pretzel-y goodness I desire.
Here's the trick to making pretzels. You can't just make dough and throw them in the oven. If you do, they'll come out sad and anemic looking and won't have that brown, chewy crust that makes pretzels, well, pretzels. Instead, you have to first drop the uncooked pretzels into a quick alkaline bath made with baking soda. Traditionally, lye is used instead of baking soda, but unless you're a hobby soap maker, I'd hazard to guess most folks probably don't have lye just sitting around the house somewhere.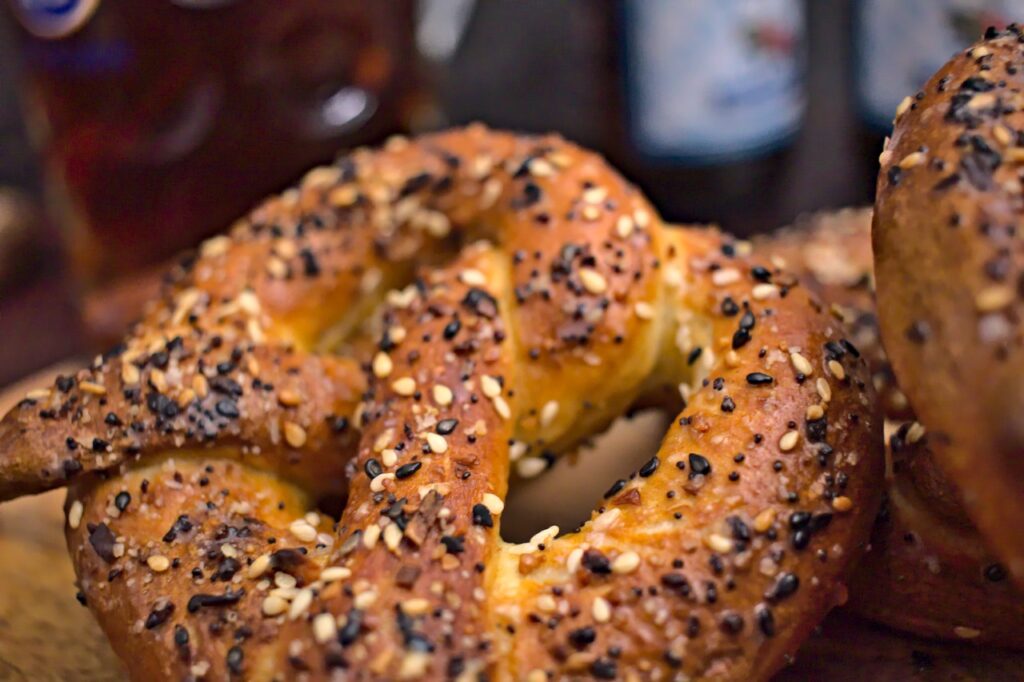 In the end, I had to do a couple of small batches to get these the way I wanted, but I'm very pleased with the results. Two sets of pretzels, one seasoned with just salt and the other with everything bagel seasoning, cooked to a delicious golden brown.
Let's not forget the pièce de résistance of any pretzel snack. Mustard. And Beer. Oh, and also cheese. And maybe some horseradish too. Or, hear me out, you could just throw all of those together for a dip you might end up eating with a shovel spoon. I'm not kidding, this dip is outrageously good.
A quick note on horseradish: Annie and I for a long time been disappointed by what we've been able to buy at the grocery store. They all lacked that sinus blasting heat that we want from good horseradish. A while back we discovered Atomic Horseradish and it has more than delivered on its promise. I can't recommend it enough.
PRO TIP: these pretzels are best eaten when fresh and still warm from the oven. But unless you're an absolute savage when it comes to wolfing down pretzels, you'll probably have some leftovers. What I've discovered, and also confirmed from friends of mine that have made pretzels, your day old pretzels may end up with the textural equivalent of an old leather shoe.
If that happens, you can still revive them. Quickly rinse some water over the pretzel so the outside is just slightly wet, but not soaking through. Tightly wrap the pretzel in aluminum foil and place into a 250 degree oven for about 15-20 minutes. It won't be as good as it was when it was fresh, but it'll at least prevent you from needing jaw surgery.
Baked Soft Pretzels with Beer Cheese Dip
Servings:
8
pretzels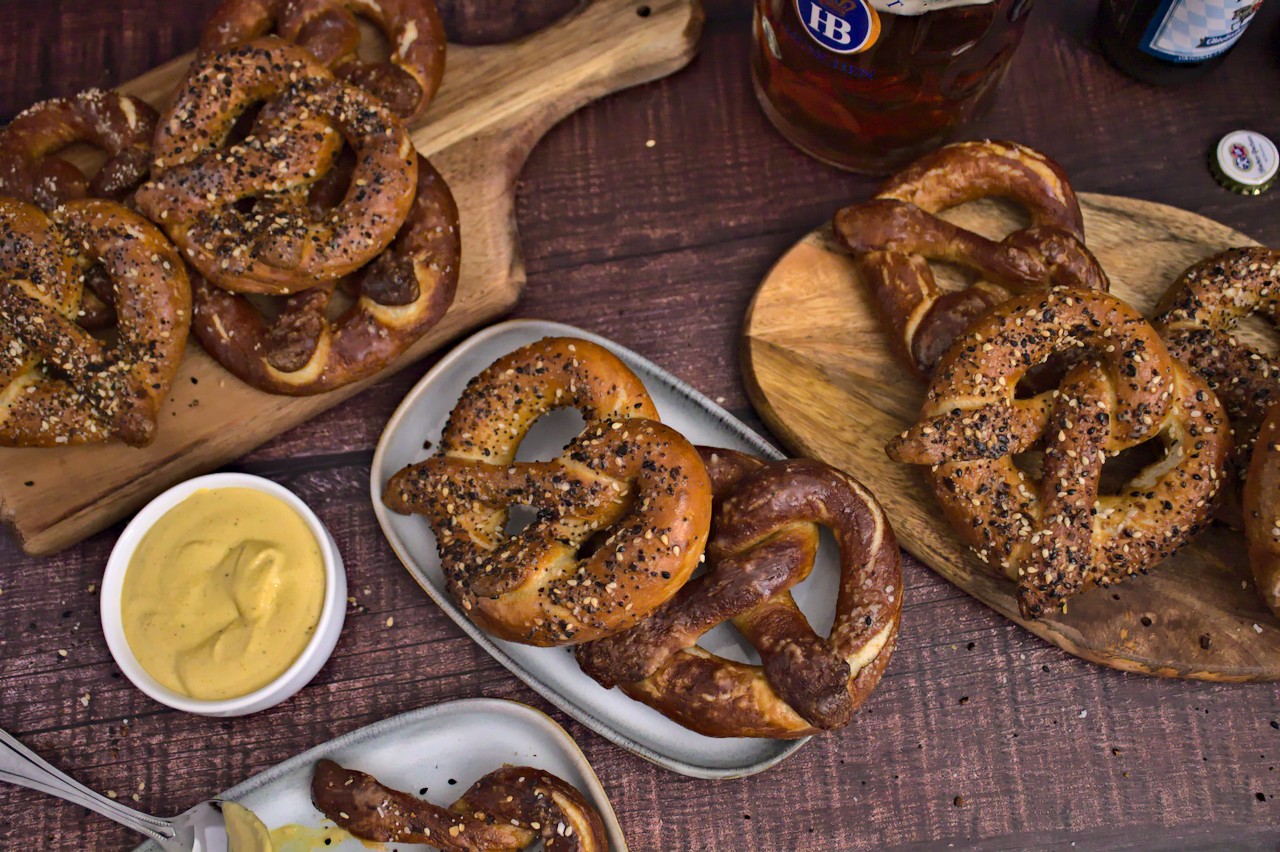 Ingredients
Pretzels
¾

tsp

active dry yeast

(a little less than half of a packet)

2

tsp

sugar

1

cup

warm water

(100-110 degrees)

3

cups

bread flour

pinch of salt

1

egg

(for an egg wash)
Baking Soda Bath
3

quarts

water

3

Tbsp

baking soda

(heaping tablespoons)
Beer Cheese Dip
2

tsp

yellow mustard

1

Tbsp

horseradish

(we prefer the the good stuff)

½

cup

beer of your choice

(we used the always classy Miller High Life)

8

oz

cream cheese

(1 brick)

1 ½

cup

shredded sharp cheddar cheese

1

Tbsp

Worcestershire sauce

⅛

tsp

cayenne pepper

¼

tsp

paprika

¼

tsp

turmeric

salt and pepper to taste
Directions
Pretzels
Combine warm water, sugar, and yeast into a bowl and set aside for about 5 minutes, until it starts to bubble and become aromatic

Into a mixing bowl add bread flour, salt, and the water and yeast mixture. Using a dough hook, mix on medium speed until the dough forms and pulls away from the bowl.

Continue to knead the dough for a couple of minutes until the dough has become springy and stretchy. It should be sticky to the touch, but not messy.

Place the dough ball into a lightly floured bowl and cover (I use a warm, damp kitchen towel). Set aside for about 55 minutes, enough for the dough to rise.

Press the air out of the dough and turn the dough out onto a lightly floured surface. Divide into 8 equal sized portions.

Working one at a time, roll each dough ball out until it forms a strand about 20-24 inches in length. Like how you might make a snake out of play-doh.

Form the pretzel shape by grabbing each end of the dough strand and crossing one end over the other so that it resembles an 'X' with a rounded bottom. Now take each end and and twist them around each other then place the ends over the bottom rounded part. Adjust the shape until it looks just like you expect a pretzel to look. If the ends do not stick to the bottom of the pretzel, use a very small amount of water on your finger to just dampen the dough enough so it sticks to itself.

This takes a little bit of patience and practice to get the hang of, so don't be discouraged if you don't get it right the first time!

Set formed pretzels on two cooking sheets lined with a silpat (4 pretzels per sheet)

Preheat oven to 425 degrees

Preheat oven to 425 degrees. Then, into an 8 quart stock pot, add about 3 quarts of water and 3 heaping tablespoons of baking soda. Stir together and bring to a rolling boil.

Meanwhile, crack the egg into a small bowl, add about 1 Tbsp of water, then mix with a fork to create an egg wash. Set aside.

When the baking soda bath is ready, slowly place pretzel dough in one at a time for 30 seconds. Be careful when first adding the dough, the baking soda water tended to bubble up pretty quick, so it's important to do this with a high walled pot.

After 30 seconds, carefully remove dough from the water and place back on the cooking sheet. I used a spider strainer to do this.

Repeat the baking soda batch until you have 1 tray of 4 pretzels done, then lightly brush the tops of them with the egg wash. Sprinkle the top with your choice of kosher salt, pretzel salt, or everything bagel seasoning. (I used kosher salt and everything bagel seasoning)

Cook in the 425 degree oven for 15 minutes.

Set aside to cool and repeat the bath, egg wash, and baking with the other four pretzels.
Beer Cheese Dip
Add all ingredients into a food processor (we use our immersion blender) and mix well until smooth.

Season with salt and pepper to your liking.